This is the best bear chili you will ever have and is perfect for using up ground black bear meat. This is a classic chili recipe, balanced with plenty of spices, rich tomato flavor, veggies, and beans.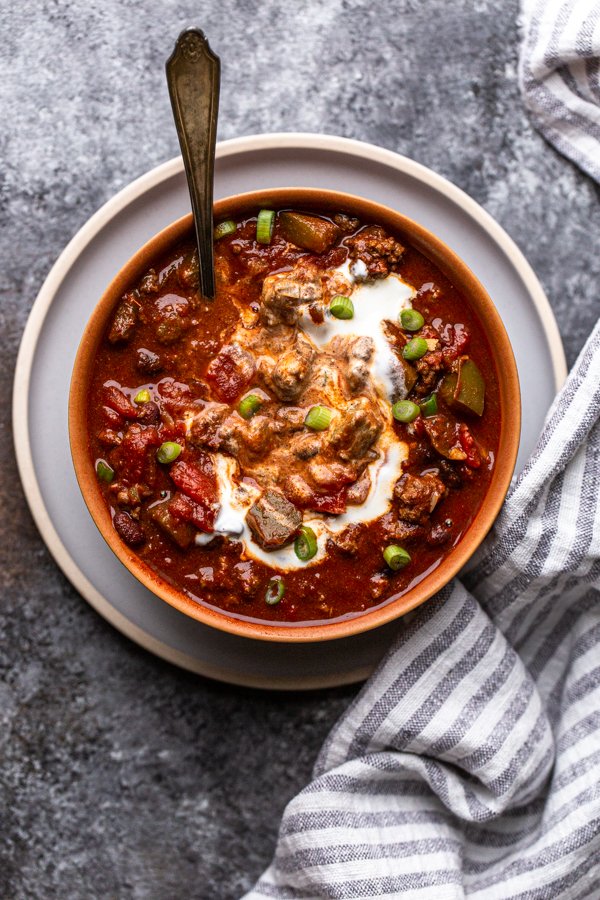 Surprise! We've got bear meat in the freezer. That means, we're adding bear recipes to the Miss Allie's Kitchen repertoire and we're kicking things off with this bear chili!
I'm really excited about this because bear is a wonderful and highly, highly underrated game meat. It's fattier (obviously) than elk and venison and I think the ground meat is sweeter and more pleasing than beef. If cooked properly, it's one of the most delicious meats ever.
I had bear roast for the first time a few years ago and was blown away with how tender and juicy it was. It was the best thing I had on my plate. So, I'm really excited that we have some in the freezer to work with.
My husband Jared, who is the hunter in our household, helped harvest a PA black bear this year. He had a shot into the bear out of his tree stand, and the bear wandered down toward his friend a few hundred yards away. His friend placed the fatal shot and filled his tag for the season. Luckily for us, our friend isn't one much for cooking with wild game, so the meat was ours.
We've got roasts, sticks and ground meat in the freezer now. Quite a few roasts will be donated, but I'll be keeping the recipes coming.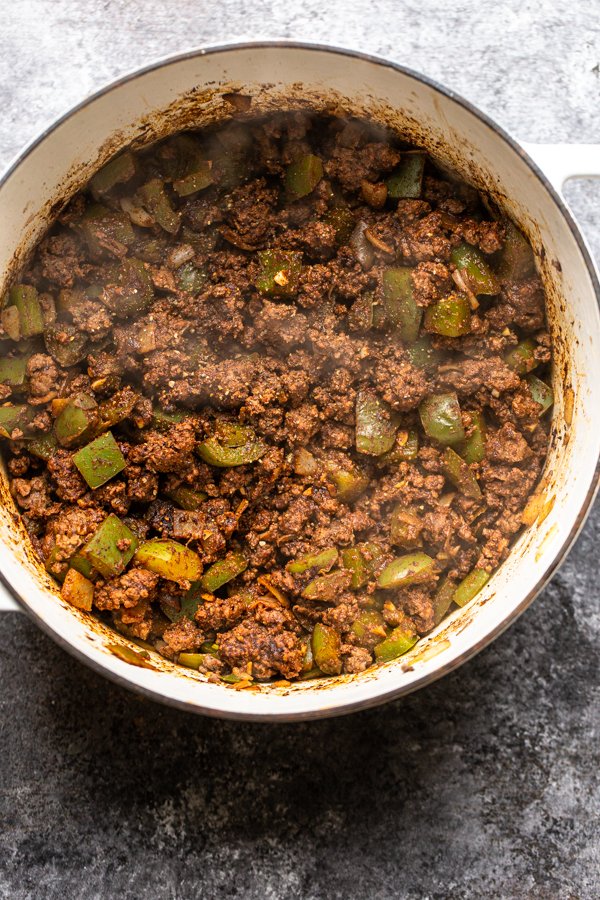 Can you eat bear meat?
There's a lot of controversy in the hunting community about cooking with bear. A lot of people think you can't eat it. Black bear, especially, is really tasty, you just have to make sure you cook it so that it's well done. That's because bear does consume other animals, so it is possible for them to carry parasites. But, if you cook your bear meat to well done (165F) it will be completely safe to eat. It's just like when you work with pork or chicken.
Because you have to cook bear so that it's well done, it doesn't make a great steak, like deer, elk and bison do. So, that's why it's best to get roasts and ground meat from a bear, but you won't be sorry.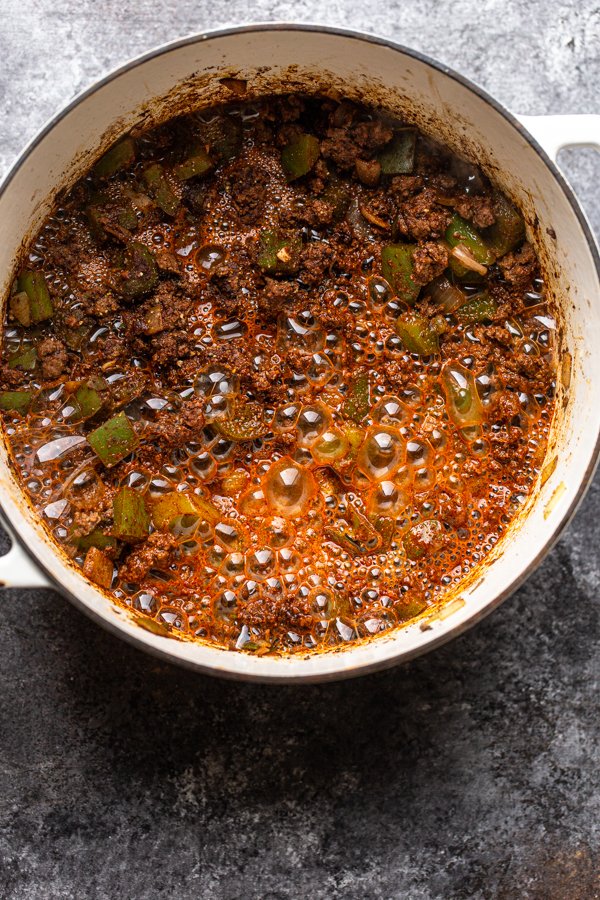 Slow cooking bear roasts is the best way to go (think pot roast, tacos, pulled meat sandwiches, etc) because it can be tough. Ground meat is really easy to work with because bear has more fat and less of a gamey flavor.
I do find that bear meat is best when balanced by a little bit of acid like vinegar or citrus, like a lot of wild game meats. I also like it in recipes where the natural mild sweetness can shine, like in this chili recipe here.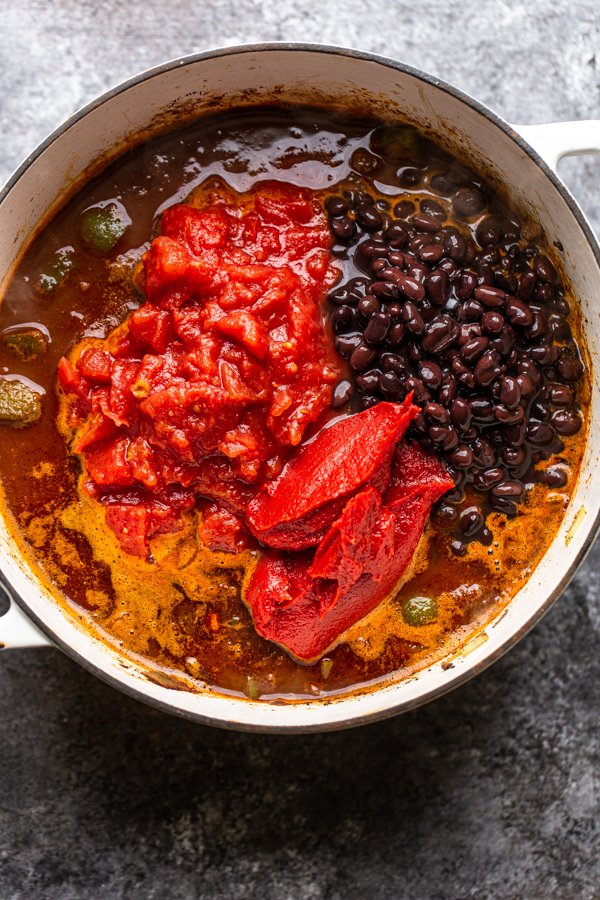 What's the best way to make bear chili?
I find that a classic chili with veggies, beans and plenty of tomatoes is sublime. My chili recipe uses a lot of chili powder and cumin, but don't be shy. This yields a big pot of food and the flavor is perfect.
I like to use a whole can of tomato paste for sweetness and richness. This is offset with beer, but you can use beef broth if you don't like cooking with beer.
Nothing special has to be done with the bear meat, it just gets cooked right along with the veggies before you add the spices and wet ingredients!
Print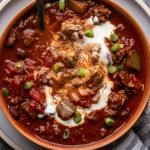 Best Ever Bear Chili | What To Do With Ground Bear Meat
This is the best bear chili you will ever have and is perfect for using up ground black bear meat. It's balanced with spices, rich tomato, and veggies.
Scale
Ingredients
1 Tbsp

. olive oil

1

yellow onion, diced 

2

green bell peppers, diced 

1

lb. ground bear meat (we have black bear) 

4

garlic cloves, minced 

2 Tbsp

. chili powder

1 Tbsp

. cumin

1 tsp

. salt

1/4 tsp

. pepper 

12 oz

. beer (I use a milk stout, or a lager) – you can sub with beef broth

1 Tbsp

. apple cider vinegar

1

(6 oz.) can tomato paste 

1

(28 oz.) can diced tomatoes (with the juice)

1

(14 oz.) can black beans

1

(14 oz.) can pinto beans
Instructions
Heat the olive oil in a large pot over medium heat. When hot, add the onions and peppers and saute for about 8 minutes, until soft and brown on the edges. 
Add the bear meat to the pan and brown, about 8-10 minutes. 
Once the meat is cooked, add the garlic, chili powder, cumin, salt, and pepper. Cook for 2 additional minutes to let the spices release their flavors. 
Pour in the beer and vinegar and deglaze the pan. Let the alcohol from the beer cook out a bit and let it bubble in the pot for about 5 minutes before adding all of the remaining ingredients. 
Stir everything well to combine and bring the pot to a boil over medium heat. 
Once the chili is boiling, turn the heat down to low, and partially cover the pot with a lid. 
Allow it to simmer for at least 20 minutes, an hour or more is better. 
Serve with any desired chili toppings!