Tender pieces of venison are served in a rich, red wine sauce classically prepared with carrots, onions, and mushrooms.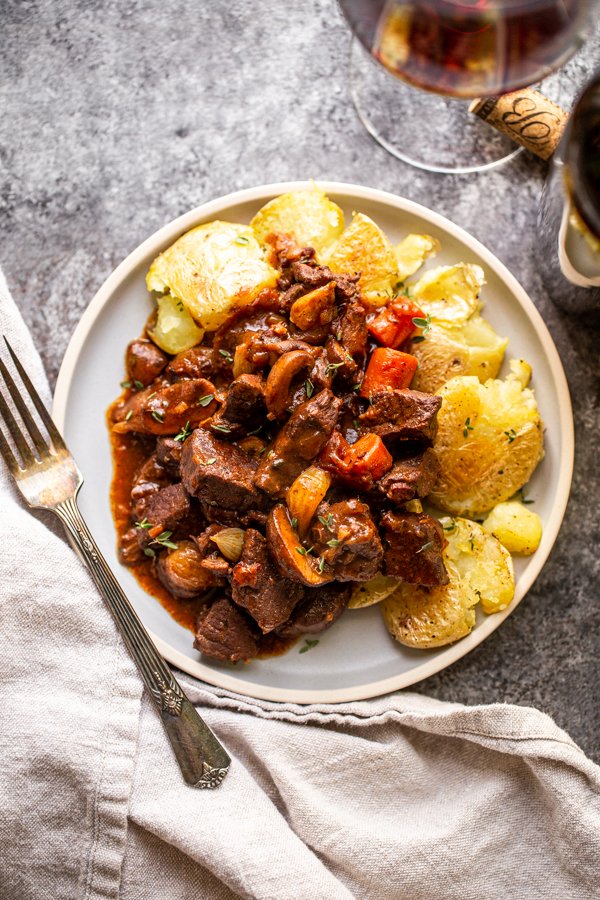 Confession: I was tempted to start a food blog after I saw the movie Julie & Julia. It's one of my favorite movies. I love watching Julie make her way through Julia's cookbook, and the big "boef bourguignon" debacle is one of the best parts of the movie. I was thinking about the dish the other day and realized it would be the perfect opportunity to try a new dish – venison bourguignon.
Before we talk about the venison bourguignon, I have to reccomend that if you like the movie Julie & Julia and/or you're a Julia Child's fan, you also read My Life in France. It's absolutely wonderful. Funny, heartwarming, and inspiring. I picked up a used copy at my local coffee shop, Pressed Coffee & Books, and it was such a great little find.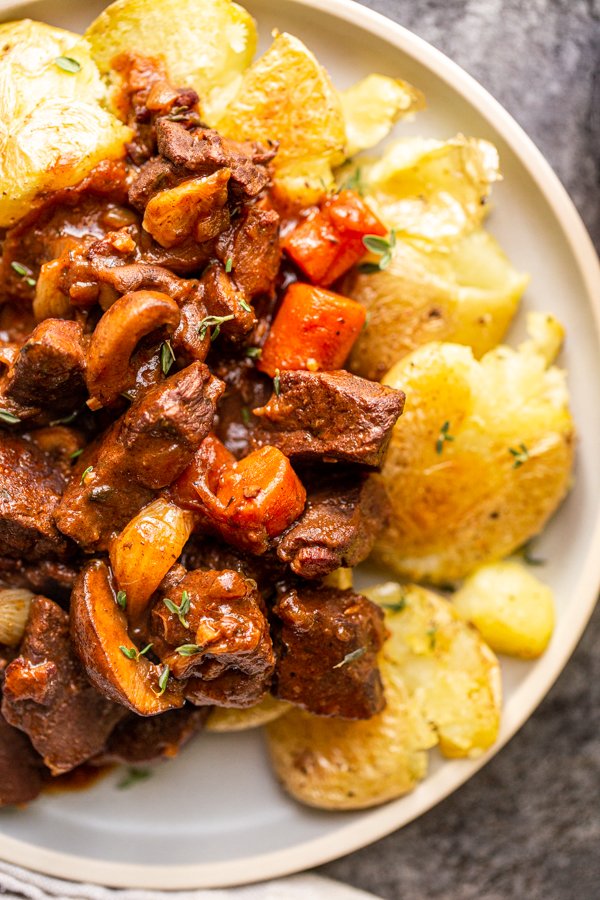 Anyway, let's talk bourguignon.
Bourguignon is a dish prepared (typically with beef) that braises meat in a rich red wine sauce. There's usually carrots, onion and mushrooms involved and that's what I'm using for our venison version.
It's one of those dishes that looks like it has a long list of ingredients, but it's very easy. Please do note that I reccomend reading through this recipe before beginning, though. There's are reasons the recipe is structured this way and I want you to have the best result possible.
Bourguignon works perfectly with venison because it is a braised dish (cooked low and slow in thick, flavorful liquid) and has plenty of acid from the red wine. This results in fall-apart tender hunks of meat and the wild game flavor shines but never gets "gamey".
I love serving this over smashed potatoes. This recipe is really wonderful, but you can also toss little potaotes in olive oil, salt, and pepper and place them into the oven with the bourguignon for about 20 minutes, smash them, and then cook for another 20 minutes and they'll be perfect.
You can also serve over mashed potatoes, polenta, pasta, rice – but the crispy edges of smashed potatoes can't be beat!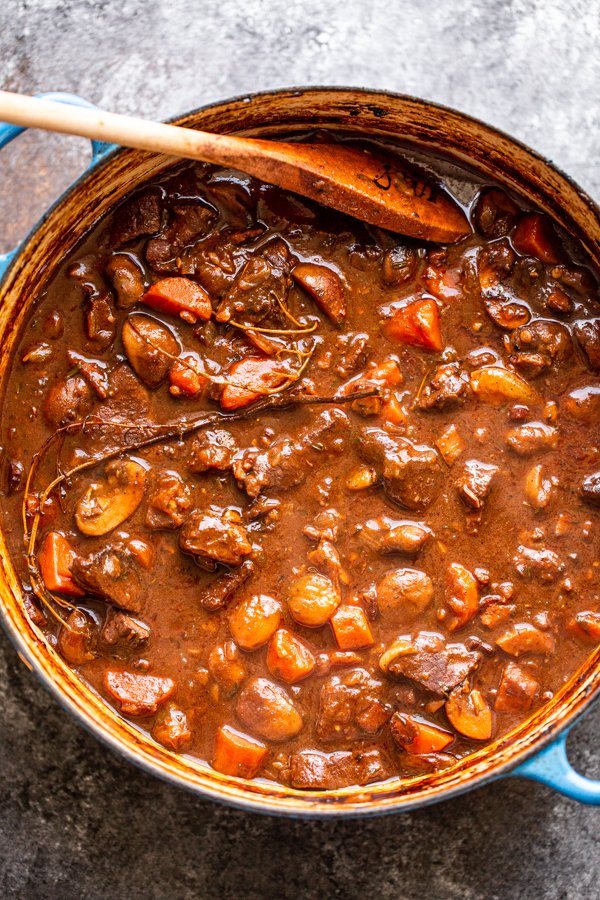 Print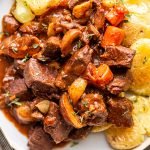 Venison Bourguignon
---
Description
Tender pieces of venison are served in a rich, red wine sauce classically prepared with carrots, onions, and mushrooms. Best served over smashed potatoes.
---
4

slices of bacon, diced or cut into lardons 

1 Tbsp

. olive oil
about

2

and 1/2 to 3lbs  cubed venison (use stew meat or break down a roast)

2

–

3

medium/large carrots, peeled and cut into

2

-inch pieces 

1

onion, diced 

3 Tbsp

. tomato paste

6

cloves garlic, minced 

1 Tbsp

. herbs de Provence

1 tsp

. salt

1/2 tsp

. pepper

2

and 1/2 cups red wine (I like a Bourdeaux, Merlot, or Pinot Noir)*

2

and 1/2 cups beef stock
about

5

–

10

dashes Worcestershire sauce

3

–

4

fresh thyme sprigs

2 Tbsp

. butter

8 oz

. baby bella mushrooms, halved*

2 Tbsp

. flour
about

1 cup

or 8 oz. frozen pearl onions (

half a

bag)*
---
Instructions
Preheat the oven to 350F. 
Begin by cooking the sliced/diced bacon in a large, Dutch oven or stockpot over medium heat (you want to use something oven-safe if you have it to cook this in. If you don't use a stockpot and transfer this to a baking dish when you're ready to bake). 
Once the bacon has cooked, remove it from the pan on a towel-lined plate, and discard the bacon fat.
With the burner still on medium heat, add the olive oil and cubed venison to the pot. Sear the venison on all sides and remove it from the pot onto a plate. 
Then, to the pot (don't drain it), add the onions and carrots and cook for about 7-8 minutes. You want the onions to start to brown. Next, add the tomato paste, garlic, herbs de Provence, salt, and pepper. Stir well. 
Then, add the wine and deglaze the pot. Make sure to scrape the bottom of the pan well to loosen the flavor bits. Add the stock, Worcestershire sauce, and then add the venison and bacon back to the pot, as well. 
Remove the pot from the heat and lay the thyme sprigs over the dish. Cover the pot with a lid and slide it into the preheated oven. Set the timer for one hour. 
Once the hour is up, add the butter to a skillet over medium heat and melt. Once the butter is melted, add the mushrooms. 
Cook the mushrooms for about 5 minutes, and then add the flour to the skillet. Coat the mushrooms in the flour, scraping the pan. This will thicken your bourguignon sauce and prevent the mushrooms from getting soggy. 
Remove the mushrooms from the heat, and remove the pot from the oven. Add the flour-coated mushrooms and the pearl onions to the pot and stir well. 
Slightly skew the lid and cook for about 1 and 1/2-2 hours until the bourguignon sauce has thickened and the venison is very tender.  
Serve over smashed potatoes (our favorite), mashed potatoes, polenta, pasta, or even rice. 
Notes
A note about the wine in this recipe. I don't think you need to use the MOST expensive wine on the shelf for this recipe, in fact, I usually use about an $11-$12 bottle on sale for $9 or so. However, I don't recommend using highly commercialized, low-quality wine because there is a good bit in this recipe. You want it to be pleasantly drinkable. 
Another note on wine – bourguignon is a dish where meat is simmered in red wine. So, if you choose not to consume wine, this really isn't the dish for you. If you don't want as strong of a wine flavor, try using 2 cups of wine and 3 cups of beef stock. 
On mushrooms and pearl onions for more selective eaters – you may be tempted to leave these out of the recipe if you or someone doesn't like them. Please do not. They are important to the flavor and integrity of this dish. You'll be leaving them in larger pieces and they're easy to pick out (my husband does). If you absolutely MUST leave the mushrooms out, add the flour in with the garlic and herbs while building the dish before it goes into the oven. 
Let's Be Friends
Sign up to get the latest and be the first to know about recipes.