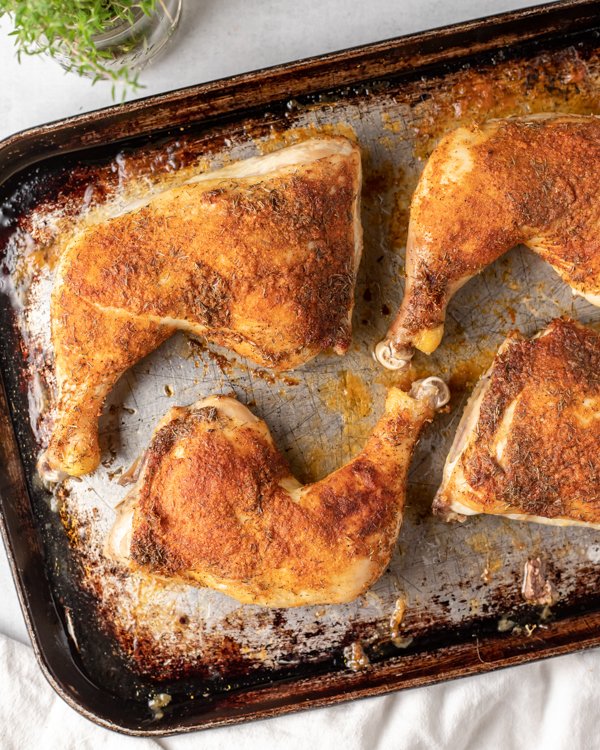 Roasting or baking whole chicken legs in the oven couldn't be easier with this recipe. It yields crackling, crispy skin & juicy meat.
We recently started buying almost all of our meat from a local farm that raises chickens, pigs, turkey and finishes cows. Because we're buying what they have, we've been getting used to using all cuts of the chicken, and whole chicken legs have been our new favorite thing.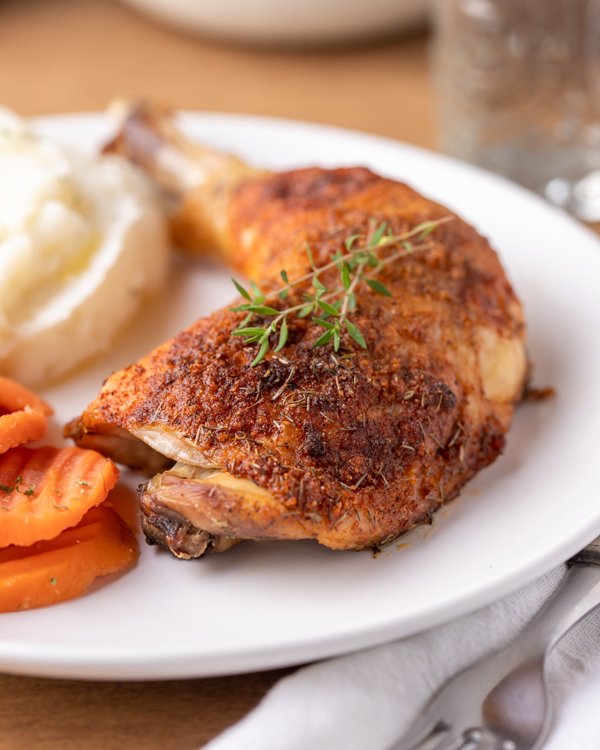 I used to buy a lot of packs of chicken thighs and breasts, but now we'll have whole wings, whole chicken legs, and whole chickens in the fridge a lot more frequently. And honestly, not only is this 1000% times better for you (hello collagen, gelatin & healthy fat)…it's tastier, too.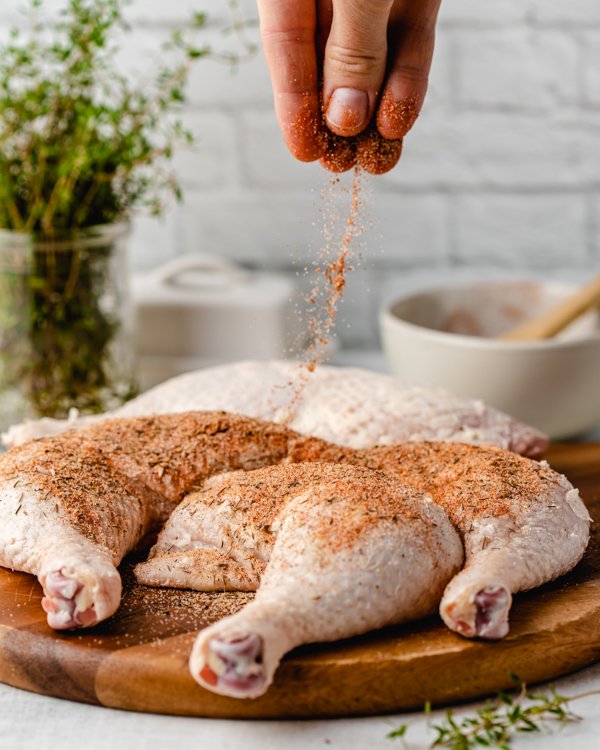 What's in a whole chicken leg?
The whole chicken leg is comprised of both the drumstick and the thigh. The joint between the drumstick and thigh is left intact and you usually buy them (or I've only ever seen them) bone-in and almost always skin on.
They're usually very economical to buy if you're in the store. Most people have no idea what to do with them. But, I'll show you! You'll be obsessed.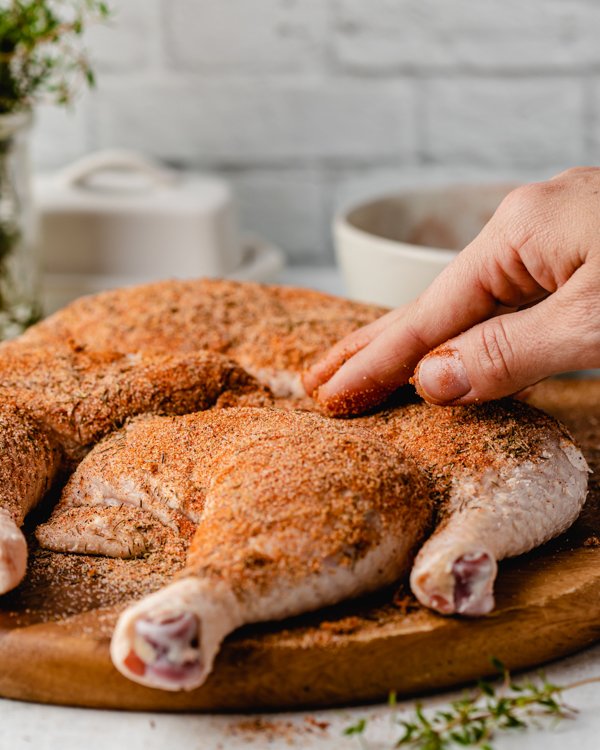 Do you take the skin off chicken legs before cooking?
No. No. NO. and…NO!! The skin provides flavor, fat and helps seal in moisture. If you're not into eating chicken skin, don't worry about eating it. But you definitely want to cook your bird with the skin on due to all of the flavor and moisture it adds to the meat.
If you don't like to eat then skin or don't want all of it, make sure to save it (and any bones) to make chicken stock/broth afterward. This is my method for making stock in the slow cooker. It says venison stock but you can also use it for chicken.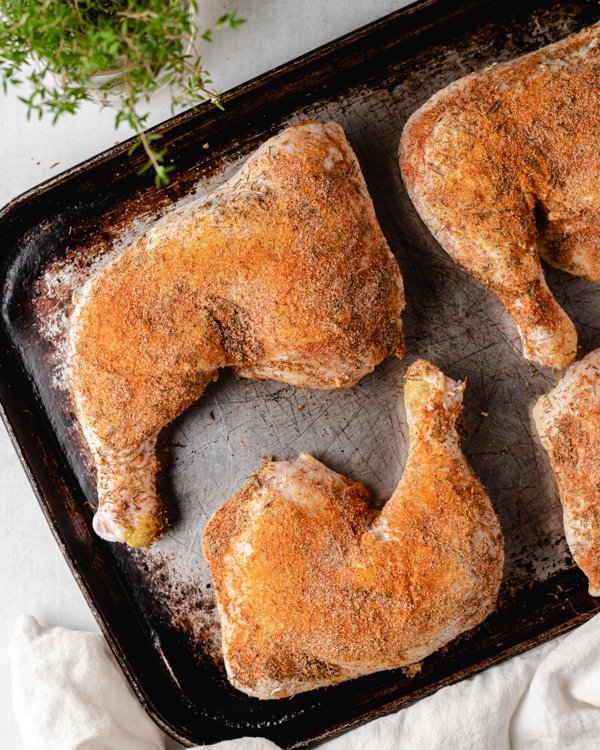 Here's how to get chicken skin super crispy…
The secret to getting chicken skin crispy is to let your meat come to room temperature for 30-45 minutes before cooking. This helps promote even cooking and I find it helps with crisping skin, too.
While you're bringing your chicken to room temp, let it sit on a paper towel to start absorbing moisture. You want to get that chicken as dry as you can with paper towels before you add any seasoning or fat to it. The less moisture or blood meat has on it before you cook it, the nicer your crust or crispy skin will be. This is true for almost any protein – especially poultry, scallops, and wild game.
How to prepare chicken legs for the oven
After you bring the chicken closer to room temp and get it super duper dry, the only thing to do is slather it in cooking fat and seasoning and put it on a baking sheet. For cooking fat, I like chicken fat and duck fat best. But, ghee, good quality butter, or bacon fat would also be great.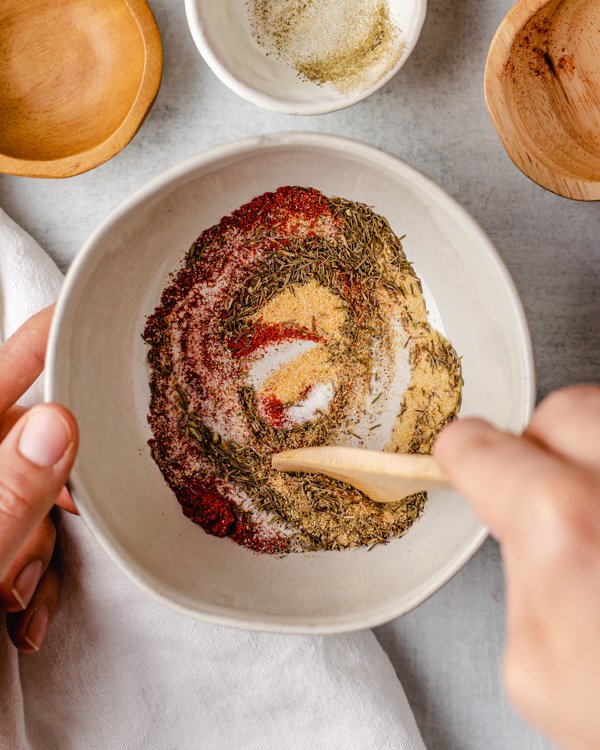 Perfect poultry seasoning blend
1 and ½ tsp. salt
½ tsp. pepper
1 tsp. garlic powder
1 tsp. paprika
1 tsp. dried thyme
1/2 tsp. onion powder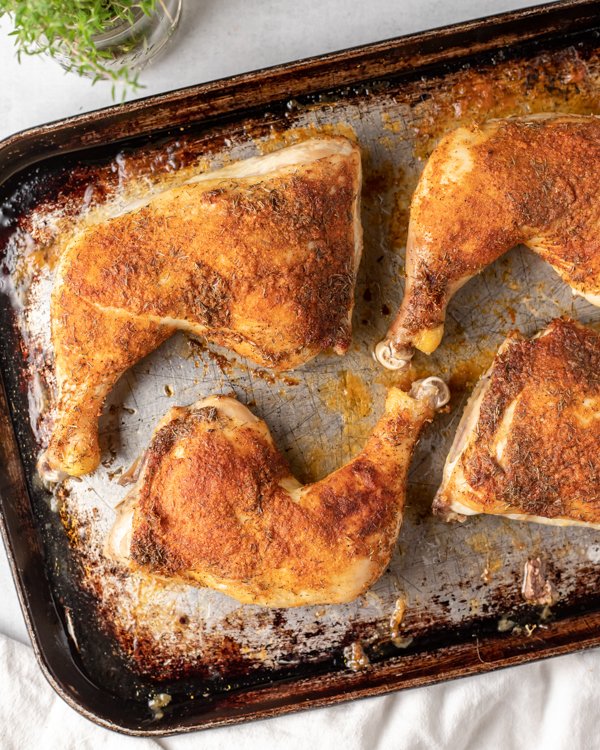 How long to cook chicken legs in the oven
I like to cook my whole chicken legs at 400F for 40-45 minutes, or until they internally reach 165F and juices run clear. I think 400F is perfect because the skin gets crispy, but it doesn't burn before the inside meat cooks fully. Note that I use a baking sheet NOT a baking dish with sides. This helps with airflow which = crispy skin.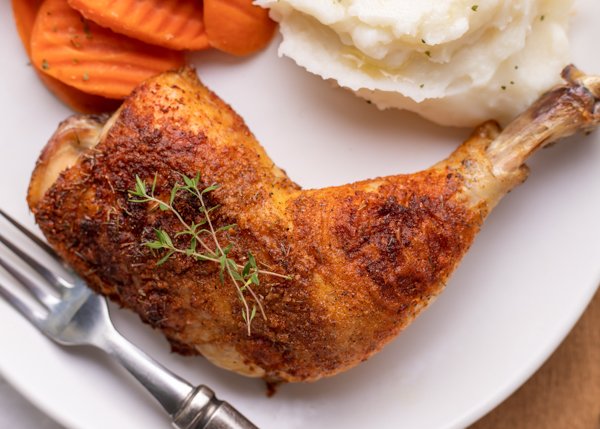 This recipe is super simple and I hope it convinces you to give whole roasted chicken legs a try! If you make it, be sure to rate and review it below!
For more chicken recipes, check out my method for pan-roasting chicken thighs!
Print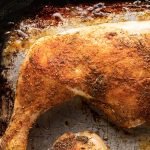 Super Crispy Whole Roasted Chicken Legs (whole quarters, no frying)
Roasting or baking whole chicken legs in the oven couldn't be easier with this recipe. It yields crackling, crispy skin & juicy meat.
Author:
Prep Time:

10 minutes

Cook Time:

40 minutes

Total Time:

50 minutes

Yield:

4

–

6

servings

1

x
Category:

Main Dish

Method:

Oven

Cuisine:

American
Scale
Ingredients
4

whole chicken legs (bone-in, skin-on)

2 Tbsp

. duck fat, chicken fat, butter or ghee

1

and ½ tsp. salt

½ tsp

. pepper

1 tsp

. garlic powder

1 tsp

. paprika

1 tsp

. dried thyme

1/2 tsp

. onion powder
Instructions
About 30 minutes prior to roasting, set the chicken out on a paper towel-lined plate or cutting board and let the meat come close to room temperature for even cooking.

Preheat the oven to 400F.

Grab some more paper towels and thoroughly dry the chicken legs. I mean as dry as you can get them. This really creates crispy skin.

Dividing the fat (butter, duck fat or ghee) evenly between each leg, rub them thoroughly to coat.

Mix together the salt, pepper, garlic powder, paprika, thyme, and onion powder. Sprinkle generously all over the legs rubbing in the seasoning.

Place the legs on a baking sheet making sure the legs aren't touching to give them each room. It's important to use a baking sheet, NOT a baking dish so the skin can crisp, not steam.

Roast in the preheated oven for 40-45 minutes, until the internal temperature reaches 165F and the skin is a deep golden brown and sounds hard to the touch.

Let the chicken rest for 8-10 minutes before serving. This is crucial.

Serve & enjoy!