A May + early June garden update that covers the progression of out lettuce, tomato and pepper seedlings and raised garden bed building.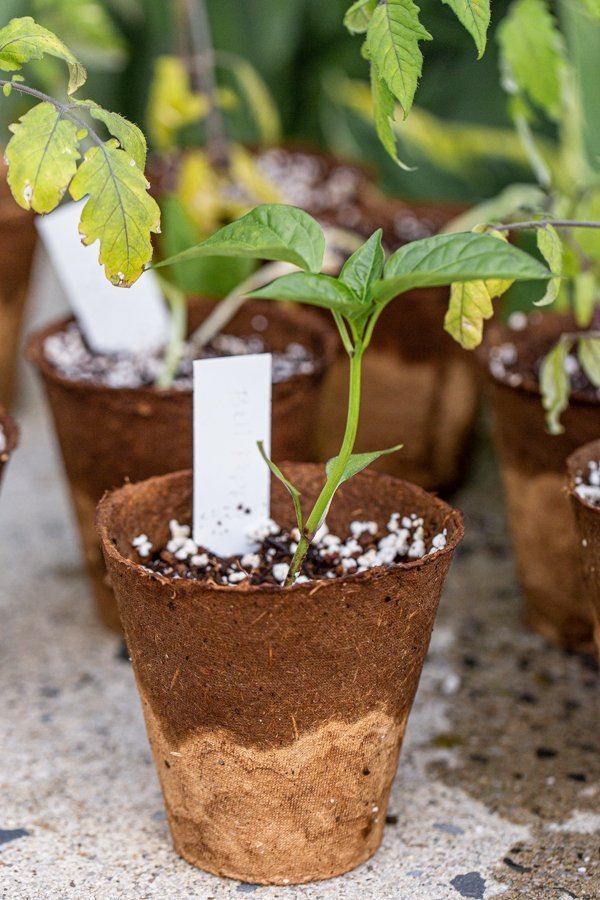 This update has been a bit delayed because we've been hard at work trying to get our plants in the dang ground! As of right now, J and I have only been home (at best) every other weekend since January.
We've had some urgent projects around the house, so the garden has been taking a backseat…until now!
Recently we've planted the seedlings into larger peat pots (they outgrew the eggshells), sketched out our garden, built the raised bed, tilled and filled the space + FINALLY got those suckers into the ground.
Man, am I ready to skink my teeth into those tomaters! As a re-cap, we've planted:  lettuce, tomatoes, bell peppers and jalapenos.
More on what we've been up to:
Moved Plants into Peat Pots
In April, I went over how I started my plants in recycled eggshells. This worked great, until my plants got a little bigger. I think maybe I should have planted my seeds further down into the shell? Not sure, but when they grew, they started falling over.
So, I re-planted them in these peat pots, which seem to be doing well! I just crushed the egg shells so the roots could escape, and plopped the whole things down into the pot. Here are the ones I got from Amazon.
Sketched Out Raised Bed + Got Material
We've officially built our 4'x8′ raised garden bed. I'll link the video we found to be helpful below and here is our list of materials:
3 – 2x12in boards that were 8 ft long- so the boards were 2 inches thick, they're 12 inches high, and they were 8 ft long. We got 3 and cut one in half to make our 4′ sides of the rectangular bed.
2 – 4x4in posts that were about 6ft long – we used these in the corners to bind the boards together to make the box.
This video shows how we did it. We just didn't put any boards on top of the bed to make that seating lip.
Whatever you do, just make sure you get untreated wood.
J has a big plan for a cover to keep critters away from the garden, so I'll bring you a full report with the next update.
Now, we've got to go get planting!