These Mediterranean Venison Steak Bowls combine juicy, marinated venison steak, fresh veggies and herbs, hummus, and feta cheese!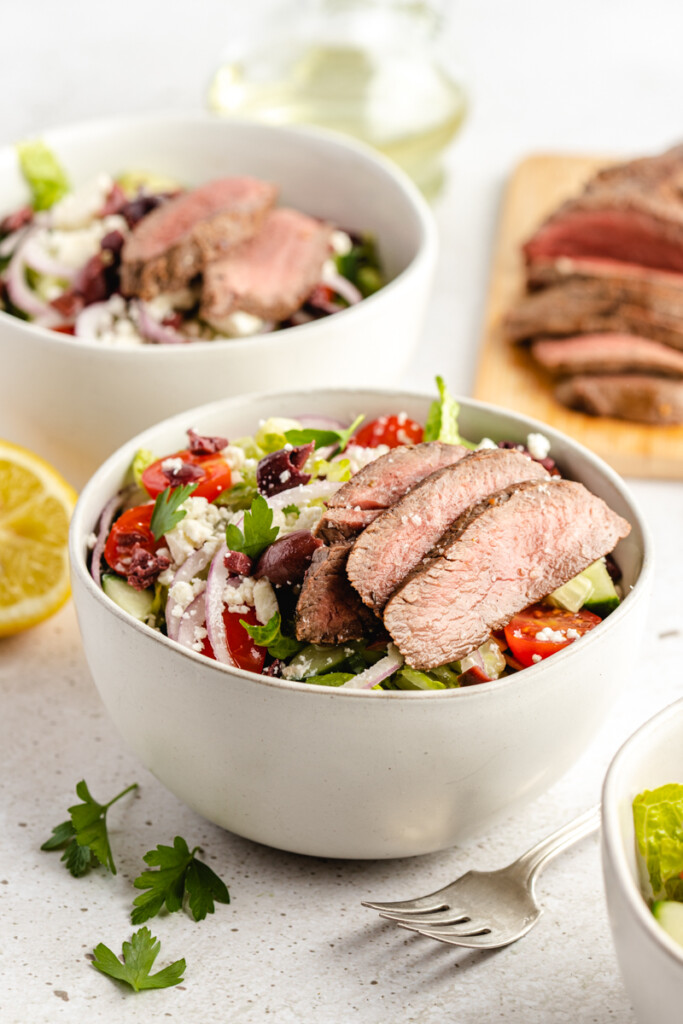 Are you looking for a delicious, healthy, and unique meal to whip up? Look no further than Mediterranean Venison Steak Bowls! Whether you're feeding your hungry hunting party or just yourself on an ordinary weeknight, this dish can be prepared in minutes with minimal ingredients.
Not only is it jam-packed with bold flavor from juicy venison steak and classic ingredients like olives and feta cheese, but its nutrient-rich content of zinc copper iron vitamins makes it perfect for those of us who want flavor and nutrition in every bite (bonus points if you're an accidental hunter's wife like me – haha)! Get ready to tantalize your taste buds with these flavorsome Mediterranean Venison Steak Bowls!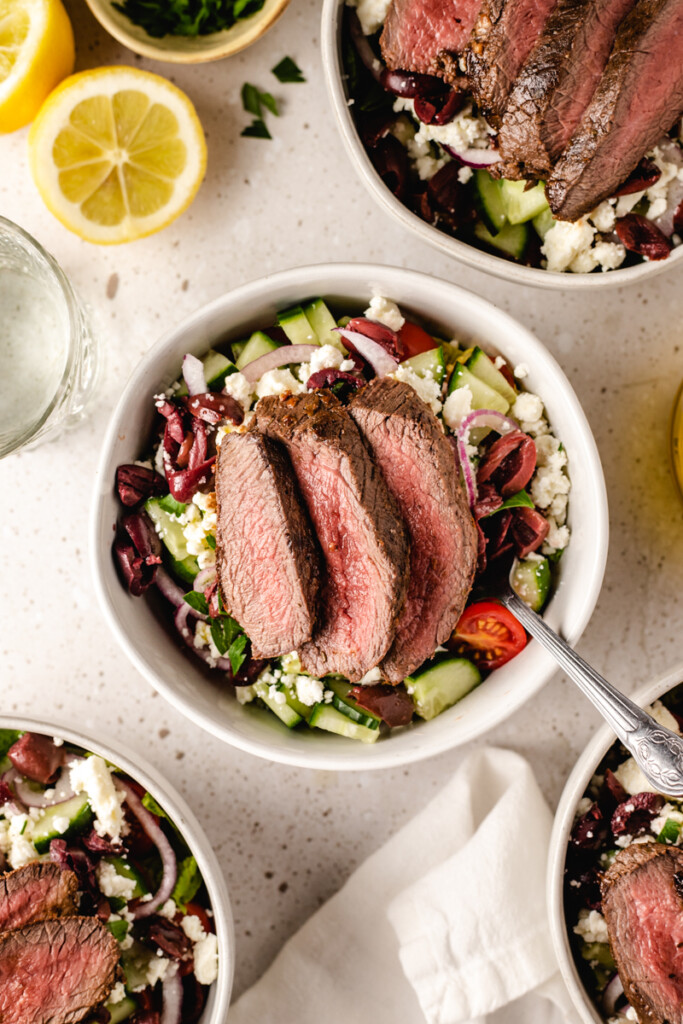 An Overview of Venison and Its Health Benefits
Venison is a delicious and nutritious meat that has been enjoyed for centuries. It comes from deer, elk, and other similar animals and is known for its rich, gamey flavor. But venison isn't just tasty – it's also incredibly good for you. This lean meat is packed with iron, which is essential for healthy red blood cells and overall energy. Plus, it's an excellent source of protein that can help you stay fit and build muscle.
As an active mom, business owner AND foodie I try to get 40-50grams of protein per meal and it seriously helps with my energy and clarity levels. So if you're looking for a meat that not only tastes great but also offers a variety of health benefits, give venison a try. You won't be disappointed!
How to Prepare the Perfect Mediterranean Venison Steak Bowls
When it comes to preparing a delicious Mediterranean venison steak bowl, you want to make sure you have all the right ingredients and flavors to create a perfectly balanced meal. Start with tender and juicy slices of venison steak, seasoned with a blend of Mediterranean spices like oregano, thyme, and garlic. We start with my all purpose marinade with gives flavor and helps to tenderize the meat.
Then, spread a layer of hummus in a bowl. Top the hummus with crisp romaine, crunchy cucumber, juicy tomatoes and any other veggies you like. Then add some red onion, olives and feta cheese for maximum flavor. Finish the bowls with the venison, lemon juice, olive oil and fresh herbs!
The combination of flavors is simply irresistible, and the dish is packed with nutrients and protein to keep you feeling satisfied all day long. Whether you're cooking for a special occasion or just want to treat yourself to something delicious, this Mediterranean venison steak bowl is a recipe you won't want to miss.
The Right Combination of Ingredients to Maximize the Flavor
When it comes to cooking, the right combination of ingredients can make all the difference between a bland meal and a flavor explosion. Whether you're a seasoned chef or a beginner in the kitchen, understanding how to layer flavors and balance spices is key to achieving delicious results. The perfect combination of ingredients can vary depending on the cuisine, the dish, and personal taste preferences, but experimenting with different combinations and ratios can lead to some truly spectacular meals.
Here we like to play with creamy hummus, fresh & crunchy veggies, salty olives & feta and that earthy venison. If you want to make your own hummus, check out this recipe. It is divine.
So don't be afraid to get creative and try something new – you never know what delicious flavor combinations you might discover!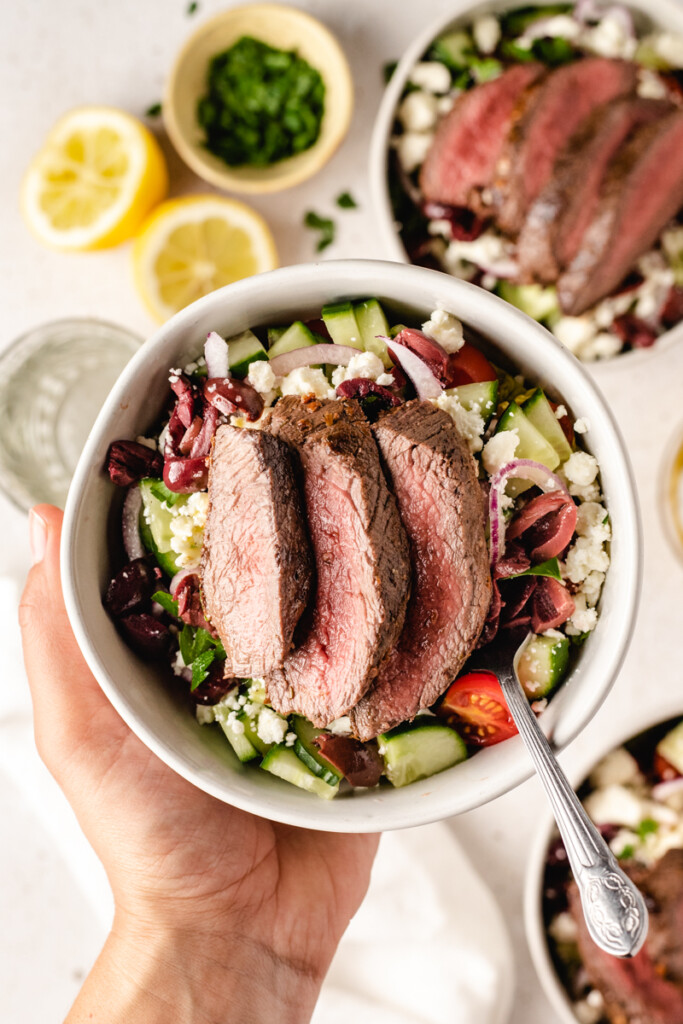 Tips on How to Serve Venison to Guests & Pick Eaters
Serving venison can be a bit intimidating, especially if you've never prepared it before. But with a little know-how and creativity, you can turn this lean, bold meat into a mouth-watering feast that will impress your guests, family (or picky toddlers!). I always like to make sure my wild game meals have the following components:
They feel familiar
Wild game isn't the only focus of the meal
Dishes have an acidic component to compliment and offset the bold flavors
Other Ways to Enjoy Venison for a Tasty Meal
Venison is a delicious and unique meat that can add some variety to your meal plan. While many may think the only way to enjoy venison is in a traditional steak or roast form, there are many other ways to utilize this flavorful protein. One idea is to make venison chili, a hearty and warming dish perfect for cold nights. Another option is to use ground venison to make burgers or meatballs for a twist on a classic favorite. For a lighter option, try using thin slices of venison in a stir-fry or even as a topping for a salad. With these creative options, you can enjoy venison in a variety of tasty dishes.
If you want even MORE ideas, grab a copy of my cookbook, Venison Every Day.
Once you have a handle on the basics of venison and the best way to cook it, there's no limit to the fantastic dishes you can enjoy. Preparing a Mediterranean Venison Steak Bowl is a great starting point — focusing on bringing out maximum flavor in venison through ingredients like garlic, oregano, rosemary, onion and thyme. Creating an appetizing presentation and choosing side dishes that will bring out even more flavor from that centerpiece venison steak bowl is essential. Whether served alone or accompanied by salad, veggies or pasta dishes, venison is sure to make for a hearty and delicious meal! Don't forget other ways to serve it — in soup, burritos or sandwiches. So now that you know all about this wild game treat, why not give cooking with venison a go? You won't regret it!
Print
Mediterranean Venison Steak Bowls
These Mediterranean Venison Steak Bowls combine juicy, marinated venison steak, fresh veggies and herbs, hummus, and feta cheese!
Author:
Prep Time:

15 minutes + marinade time

Cook Time:

10 minutes

Total Time:

8 minute

Yield:

4

servings

1

x
Category:

Dinner

Method:

Stovetop

Cuisine:

American
Scale
Ingredients
For the venison: 
1

–

2

lbs venison steaks, chops, or

ten

derloin 
For the bowls:
4

cups finely chopped lettuce 

2

cups halved cherry

tomatoes

2 cups

diced

english

cucumber

1/2

red

onion

,

sliced

thin * 

1/2 cup

hummus of choice

1 cup

crumbled feta cheese

1/2 cup

chopped Kalamata olives

1/4

cup olive

oil 

lemon

juice, salt & pepper to taste

optional: fresh herbs (parsley

,

mint

)
Instructions
Marinate steak or steaks in my All Purpose Marinade for 1-8 hours (overnight is fine).  

When

marinated, pat steaks dry &

cook

over

med-

high heat

until

medium

rare

(

125

F internally). 

Let the meat rest while you assemble the bowls. 

Start by spreading a layer

of

hummus

on the

bottom of each

bowl, keeping in mind,

you want to divide all ingredients evenly between

4 bowls. 

Add the lettuce, tomato, cucumber,

red onion, feta and olives.

Slice the steak and top the bowls with the meat. Then, add drizzle of olive oil, lemon juice, and salt and pepper to taste. Top with fresh herbs if using. 
Notes
if

red onion

is too

strong

, soak in ice

water with a pinch

of

salt & s

ugar for

10

minutes to take out some of the bite!