Cottage cheese makes a comeback with this Whipped Cottage Cheese Dip with capers & dill that can be used as a dip or spread. I love it with smoked salmon and cucumber!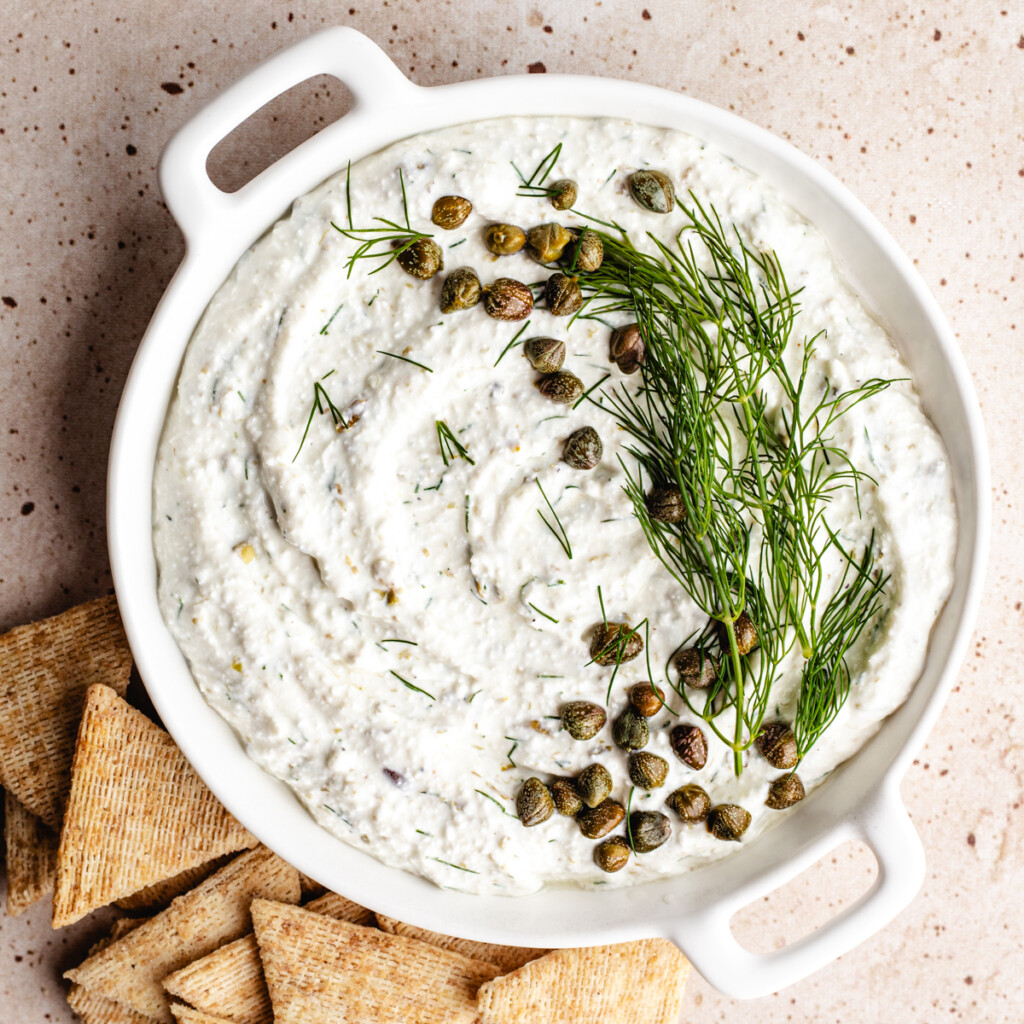 Whipped Cottage Cheese Dip with Capers & Dill
Craving a delicious snack that doubles as a party appetizer? Look no further. This Whipped Cottage Cheese Dip with Capers and Dill is sure to tantalize your taste buds! This creamy dip packs a flavorful punch thanks to the combination of salty capers, zesty dill, and tangy cottage cheese, all blended together for an easy and wholesome way to curb cravings between meals. Perfect for lunchboxes, potlucks, or just snacking at home — this recipe has something for everyone! I love to wrap cucmber spears with smoked salmon and dip away!
Looking for a versatile, delicious, and protein packed addition to your meals? Look no further than cottage cheese! Cottage cheese can do it all, from adding protein to your snacks and lunches to creating delicious dips and appetizers that are sure to be a hit at potlucks and parties. With its mild flavor and creamy texture, cottage cheese is the perfect ingredient for a variety of recipes that are both tasty and nutritious. So whether you're looking to satisfy your cravings for something savory or just want to add a little extra oomph to your meals, give cottage cheese a try – you won't regret it!
Ingredients You'll Needed
Are you in search of a tasty and healthy dip for your next snack, lunch, or potluck? Look no further! This recipe combines the creaminess of whipped cottage cheese with flavorful herbs, like dill, and tangy flavors such as lemon juice and capers to create a dip that will leave your taste buds wanting more. To make this delicious dip, you will need cottage cheese, lemon juice, a garlic clove, fresh dill, capers, and salt & pepper to taste. Simply blend all of the ingredients together and serve with your favorite veggies or crackers. This dip is sure to be a hit at your next gathering or as an easy appetizer for any occasion.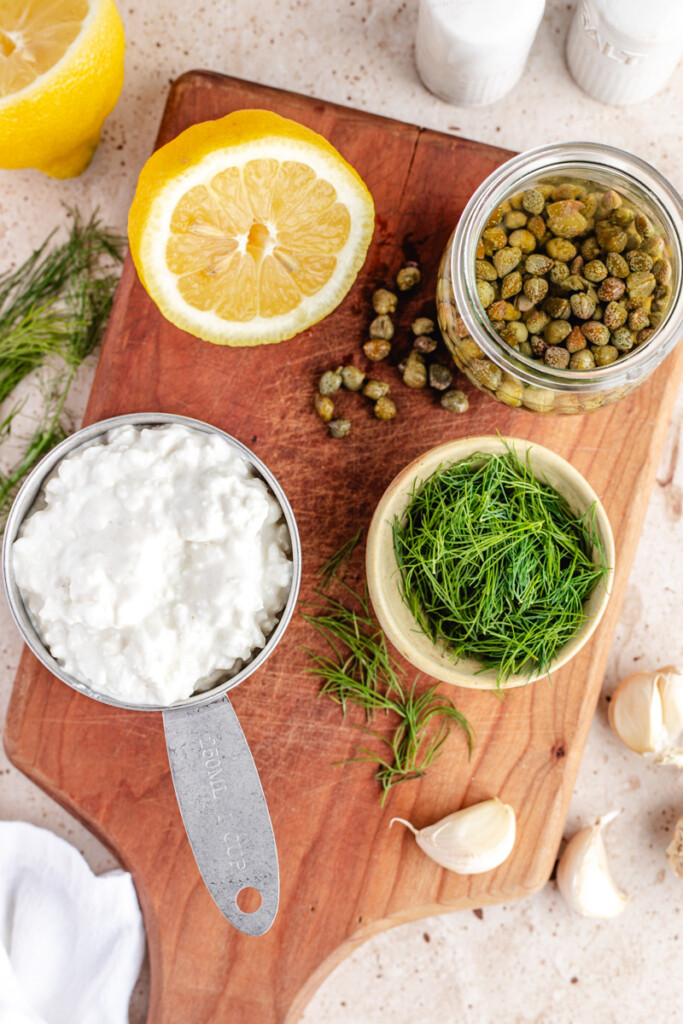 Prepping Your Ingredients
When it comes to preparing snacks, appetizers, dips, and even lunches for potlucks, prepping your ingredients is key to achieving a delicious and impressive final product. One aspect that may be overlooked is prepping the ingredients before adding them to the bowl. This crucial step can make a significant difference in the texture and consistency of your dish. Take whipped cottage cheese, for example. By properly whipping it before adding any other ingredients, you create a smooth base that is easier to mix and creates a more uniform dip or spread. By prepping all your ingredients with care, you ensure that you are achieving optimal taste and texture, elevating your dish and impressing your guests.
How to Make Whipped Cottage Cheese
To make the dip, add all ingredient into a small food processor or blender and blend until smooth. Feel free to adjust your seasonings as needed. Serve with your favorite veggies, bagels with lox, over salmon bowls, crackers, or pita chips for a satisfying and flavorful snack or appetizer that's easy to whip up and sure to please a crowd!
Nutritional Benefits of Cottage Cheese
When it comes to choosing a nutritious dip or snack for your lunches or appetizers, whipped cottage cheese is a great option. Not only is it delicious, but it also contains high amounts of protein, perfect for maintaining and building muscle. Additionally, cottage cheese is usually made with little to no additives, making it a healthier option than other dips or snacks. Pair it with your favorite veggies or crackers to boost the nutritional content even further. So the next time you're looking for a tasty snack that won't leave you feeling guilty, consider whipped cottage cheese – your taste buds and muscles will thank you.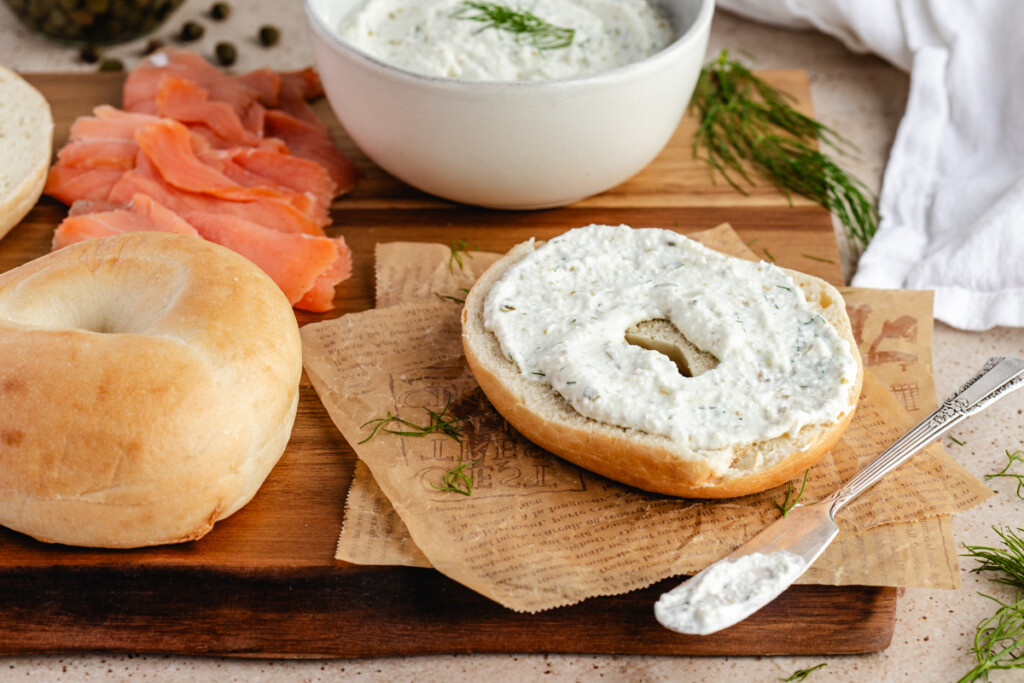 Tips for serving, storing, and customizing this dish to your liking
Whipped cottage cheese is a versatile dish that can be served in a variety of ways. As a snack or appetizer, it can be paired with crackers, vegetables, and I love this with smoked salmon. For a dip, simply mix in your favorite herbs and spices, like garlic or dill (and capers!), for an added kick of flavor. For lunches, spread it on sandwiches or wraps for a protein-packed option that will keep you full throughout the day. When it comes to storing whipped cottage cheese, simply keep it in an airtight container in the fridge for up to five days. Feel free to customize this dish to your liking by experimenting with different mix-ins and toppings, but this is a favorite of mine.
Preparing this meal ahead of time is a great way to save yourself the hassle of making dinner last minute. Why not keep a few ingredients handy or make this dip ahead of time, so you'll have it ready and available when you need it? The creamy and flavorful taste will be sure to please your whole family. Plus, with just a few simple modifications this dip can become even more special! As you create your own version, get creative by adding your favorite herbs, spices or various sauces to customize this dish according to everyone's taste preferences. I'm so excited to hear how much you love this dip! Let me know how it turns out in the comments below! Enjoy!
Print
Whipped Cottage Cheese Dip with Capers & Dill
Cottage cheese makes a comeback with this Whipped Cottage Cheese Dip with capers & dill that can be used as a dip or spread.
Author:
Prep Time:

5 minutes

Total Time:

5 minutes

Yield:

1 cup

1

x
Category:

Sauce

Method:

Blender

Cuisine:

American
Scale
Ingredients
1 cup

cottage cheese 

2 tsp

. lemon juice (or to taste)

1

garlic clove, grated 

1

–

2

Tbsp. fresh dill

2 tsp

. capers

Salt & pepper to taste 
Instructions
Add all ingredients into a small food processor or blender.

Blend until well combined and you reach desired consistency.

Use on bagels with lox, over salmon bowls, or to dip veggies. Possibilities are endless!
Notes
This kind of acts as a high protein cream cheese replacement for salmon and lox for us OR a dip!
Keywords: cottage cheese, caper, dill