The most flavorful spicy romesco sauce hugs this roasted chicken for the best (not boring) chicken dinner EVER.
Whole30 Roasted Chicken with Spicy Romesco Sauce
UGH you guyzzz. I die for this spicy romesco sauce. And when I say spicy, I don't want to scare you. You can totally control the heat on this to your liking or omit the red pepper flakes all together. Whatever floats your boat.
Anyway, I used to work at this restaurant in high school and they would serve freshly baked focaccia bread with oil and a romesco-like dipping sauce. Again – YOU GUYZZZ. It was amazing. I can't tell you how many times I squirreled away that bread and took home a little plastic ramekin of the dipping sauce to eat late night after my shift.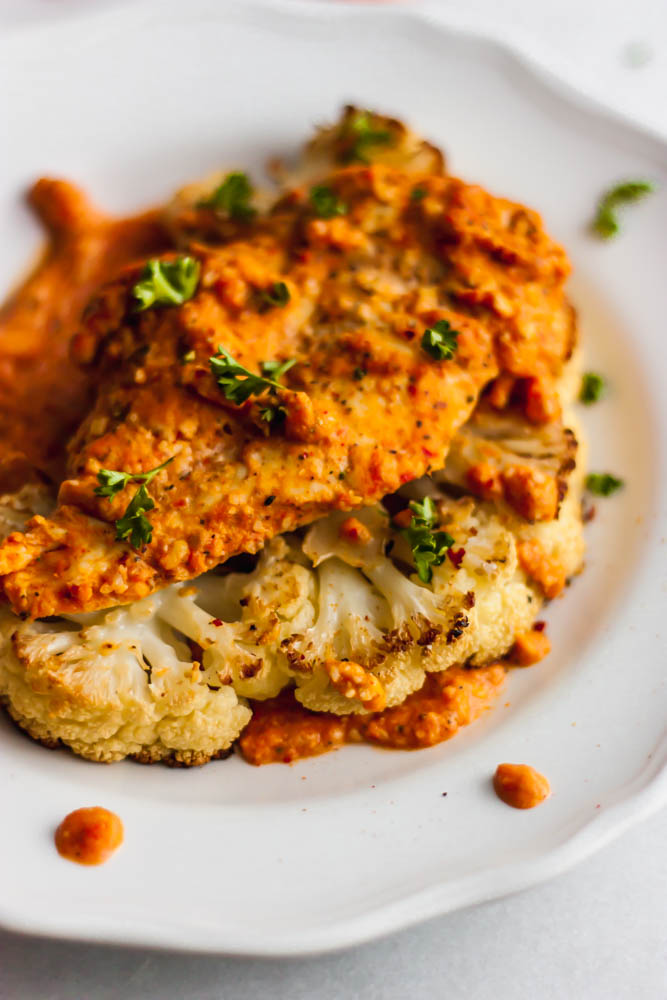 After college, my mom started making things with romesco sauce and I fell head over heels in love with it again. And then… I forgot all about it. UNTIL NOW. I have no idea how this idea came to me, but I was like, huh, we need an easy chicken breast recipe and BAM. I give you this, friends.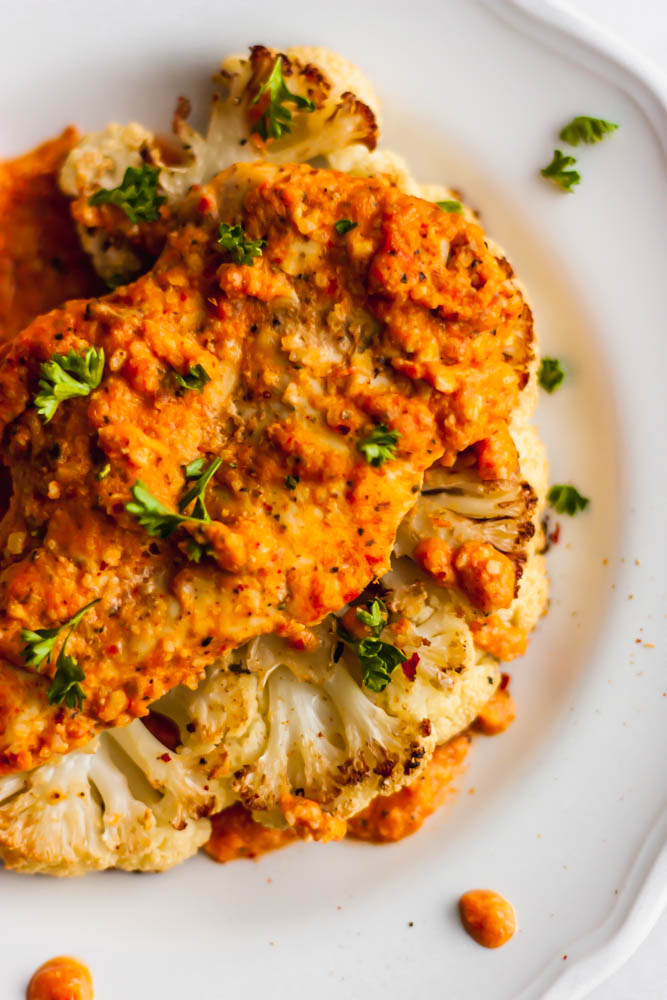 Just a tip – this works beautifully with roasted cauliflower. Just sayin' (pop a sliced head of it in a 400 degree preheated oven with EVOO, salt, and pepper for about 30 mins.)
LET'S GET TO IT!
WHAT YOU'LL NEED (increments & directions below in the printout – tip get everything out before starting!):
Boneless, skinless chicken breast
Roasted red peppers – if you use jarred always remember to check ingredients!
Tomatoes
Almond meal
Italian seasoning
Red pepper flakes
Salt
Pepper
Olive oil
Print
Roasted Chicken with Spicy Romesco Sauce
Scale
Ingredients
1

lb. boneless, skinless chicken breast

2

roasted red peppers – jarred or fresh

2

large tomatoes

3/4 cup

almond meal

1 teaspoon

Italian seasoning

1/4 teaspoon

red pepper flakes – more or less to your liking

1 teaspoon

salt – or to taste

1/2 teaspoon

pepper

3 Tablespoons

olive oil
Instructions
Add the roasted red peppers, tomatoes, almond meal, Italian seasoning, red pepper flakes, salt, and pepper to a food processor or blender.
Pulse a few times.
Measure the olive oil out and turn on the blender or food processor and stream in the olive oil until the mixture is smooth.
Rinse the chicken, trim the fat and pat dry. Place it in a plastic bag or bowl.
Add about half of the romesco sauce to the bag or bowl with the chicken and let it marinate for 30 minutes.
When you're ready to roast the chicken, preheat the oven to 400 degrees.
Place the chicken on a baking sheet lined with parchment and then into the oven for 30 minutes, or until the chicken is cooked through and slightly browned.
Serve the chicken with the remaining romesco for dipping or drizzling. Enjoy!
xoxx,
Miss AK
Instagram – https://www.instagram.com/miss.allieskitchen/
Facebook – https://www.facebook.com/missallieskitchen/
Pinterest – https:pinterest.com/miss_ak