I'm showing you How To: Roasted Chicken Thighs (bone-in) to simplify a kitchen staple and give you an easy, healthy meal. The juiciest chicken ever!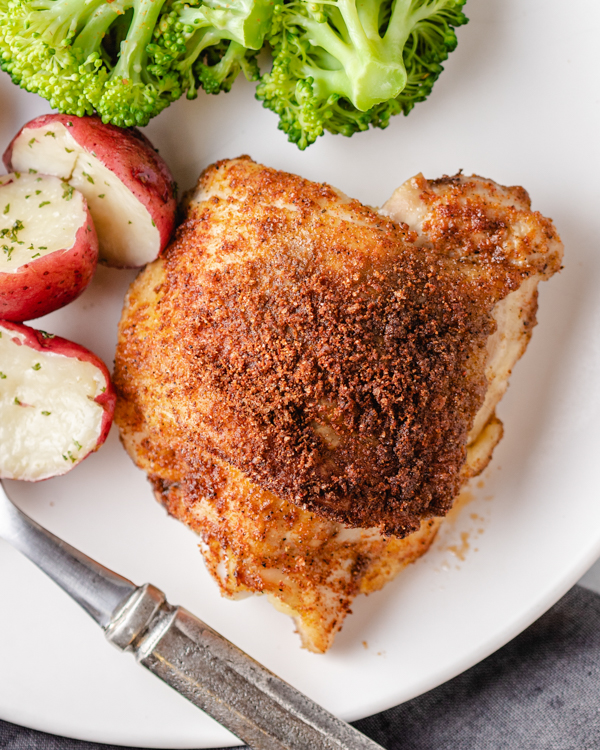 So, you find some chicken thighs on sale…
You're meandering through the grocery store, and eventually, you make your way over to the meat aisle. You scan the cases for the hottest deals and $1.99lb chicken comes into your peripheral view. You all but run over to see what you're going to score for dinner and then you see it "BONE-IN chicken thighs". Umm…gross. What are you supposed to do, touch bones or something? You don't know how to butcher a chicken. You pick up a pack of boneless, skinless chicken breasts for double the price and leave the store feeling defeated.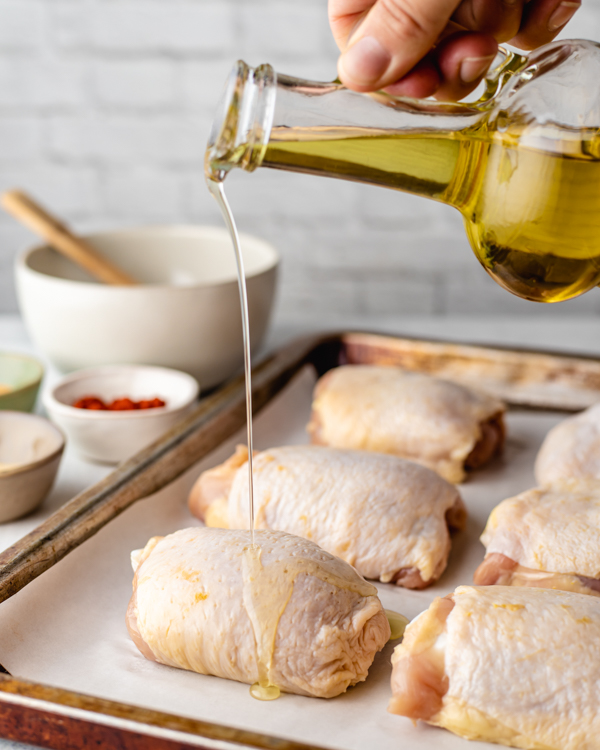 Sound like you? That was me, too!! For some reason, whenever we see bone-in anything it automatically triggers anxiety for some of us. I get it! Are you supposed to remove the bone before cooking? Leave it in? When do you take it out? How do you know if it's cooked?! The questions are honestly endless. Try my Instant Pot Chicken Thighs for another easy way!
Okay everybody – take a deep breath. I'm going to show you. Even if this is your first time cooking with chicken, you can totally do this. The secret to cooking wonderful roasted chicken thighs (or breasts) is to roast them with skin on and bone in.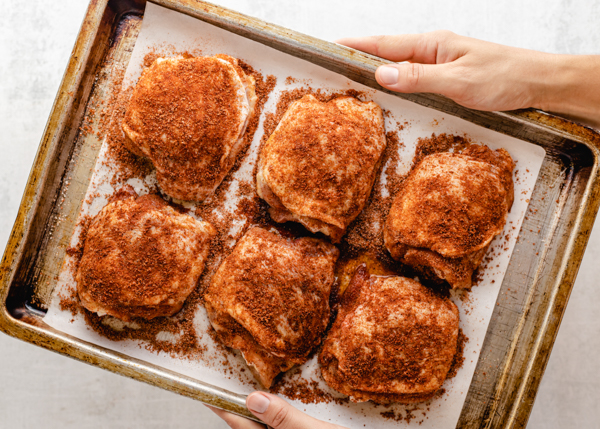 Why bone-in, skin on roasted chicken thighs?
Because this literally traps the flavor and the moisture so when you're through cooking, you have an incredibly flavorful piece of meat that is anything but ordinary. When it's time to eat the chicken, I simply remove the skin and eat around the bone, or, I wait for it to cool and remove the bone and skin by pulling on each gently.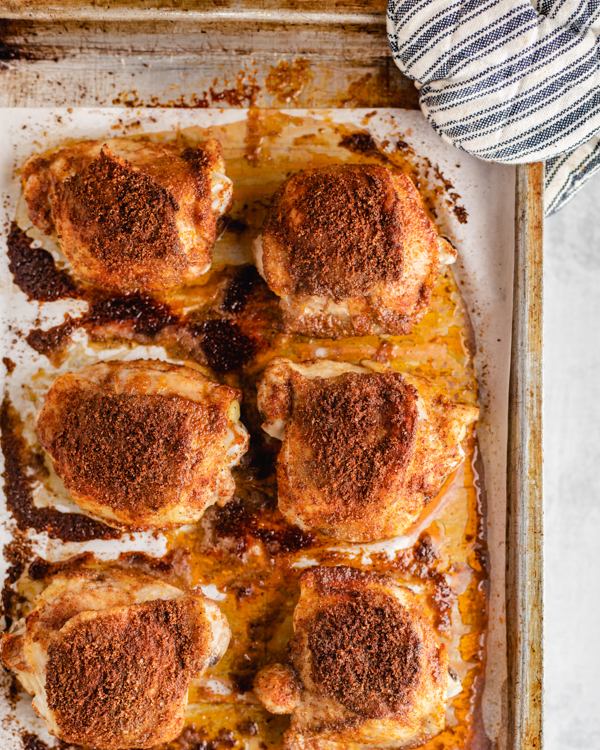 One more thing before we begin – DO NOT THROW AWAY THE BONES AND THE SKIN (if you choose not to eat the skin, which is delicious). I repeat, do not throw away the bones and the skin. Because if you set them aside, you can literally toss them into your slow cooker with scrap veggies, onions, and garlic, fill to the brim with water, add a dash of ACV, and let it sit on low for 24 hours to make chicken bone broth. Like, is that a LIFE HACK or what, people?! Here's the bone broth recipe I use by Danielle Walker with Against All Grain. This will make about $15 worth of chicken bone broth.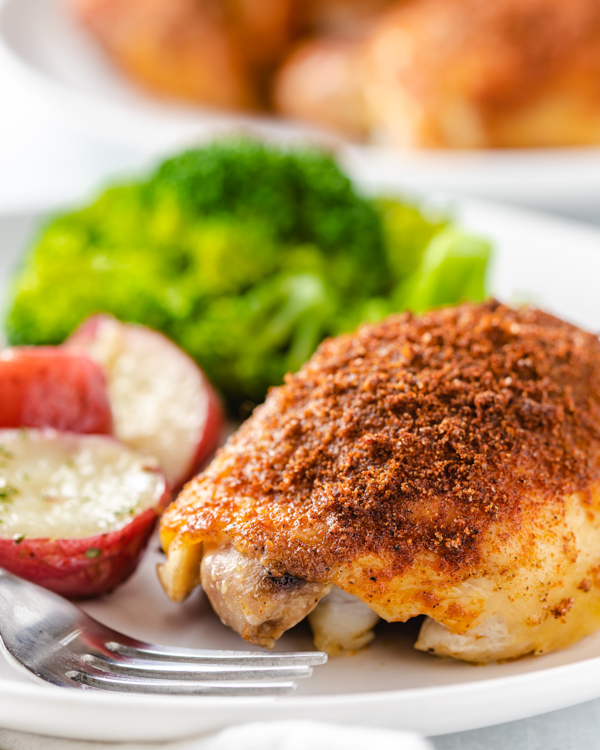 Sign up to receive my weekly newsletter and NEVER miss a post!
Back to the bird…
Print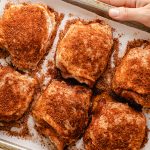 How To Roast Bone-In Chicken Thighs
I'm showing you How To: Roast Bone-In Chicken Thighs to simplify a kitchen staple and give you an easy, healthy meal. The juiciest chicken ever!
Author:
Prep Time:

10 minutes

Cook Time:

32 +/- minutes

Total Time:

19 minute

Yield:

4

1

x
Scale
Ingredients
1

lb. skin-on, bone-in chicken thighs

2 tsp

. paprika

1 tsp

. garlic powder

1 tsp

. onion powder

1/2 tsp

. ground sage

2 tsp

. sea salt

1/2 tsp

. black pepper

1 Tbsp

. +

1 tsp

. of olive oil – 1 tsp. for each thigh
Instructions
Thirty minutes prior to baking, grab your chicken thighs out of the fridge and allow them to come to room temp. This allows for more even cooking.
Preheat your oven to 400 degrees.
Get out a baking sheet and line it with parchment paper or spray with olive oil.
Measure all of your spices, salt, and pepper into a small ramekin or bowl. Mix the spice rub together.
Remove your chicken from the package and pat dry with a paper towel. Lay the pieces on the baking sheet and drizzle with olive oil.
Next, evenly divide the spice mixture between each piece of chicken, and rub the mixture in, making sure to get a good bit of it under the skin. This will lock in moisture from the oil and flavor from the spices.
Place the chicken into the preheated oven for approximately 30-32 minutes or until a cooking thermometer reads 165 degrees. There should be no pink left in the middle. Before cutting or eating the chicken, PLEASE PLEASE PLEASE allow it to rest for around 10 minutes to seal in the moisture you so carefully tried to create.
Once you eat or remove the bones and skin, be sure to save them for chicken bone broth!
this post was published March 2017 and was updated and republished November 2021.