This scratch-made venison stew recipe is easy to make and the deer meat is fall-apart tender. It's packed with veggies and simple ingredients.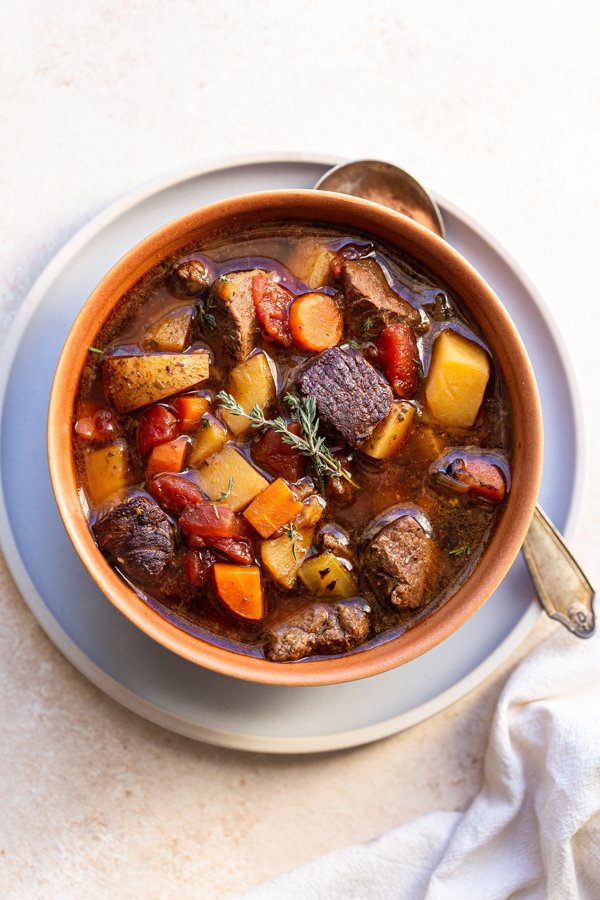 If you missed it, my husband and I welcomed our baby girl, Madi Jo, in July 2020. While my pregnancy was full of many blessings, I also experienced some pretty serious food aversions in my first trimester. The biggest one really being meat, which was weird for me! Once my aversions calmed down, I finally made this venison stew. I tried it, and it is still my favorite meal I ate while pregnant. That and this venison chili. Go figure!
It was really odd in the beginning to be totally turned off by the sight or smell of venison since we eat some much of it in our home.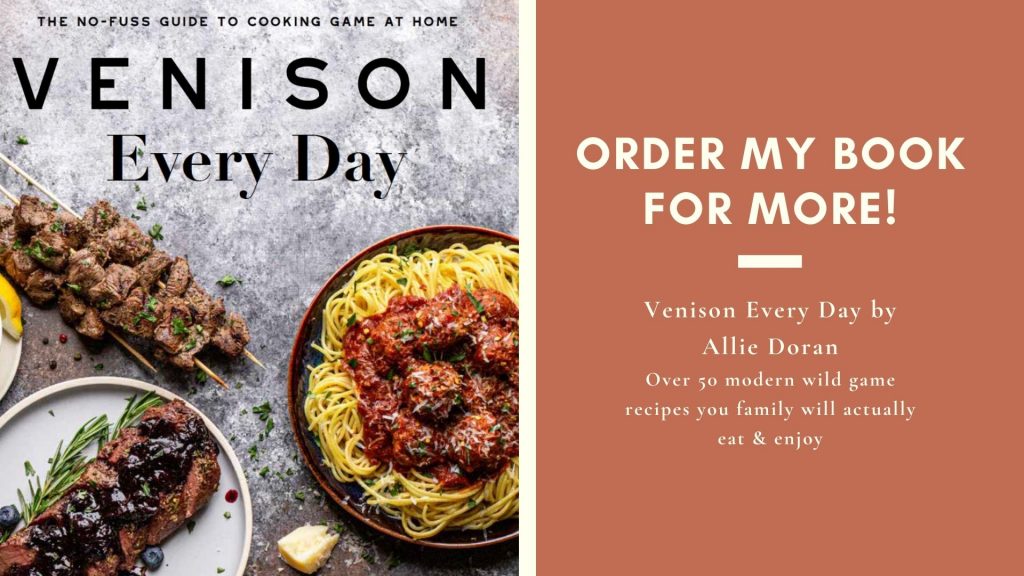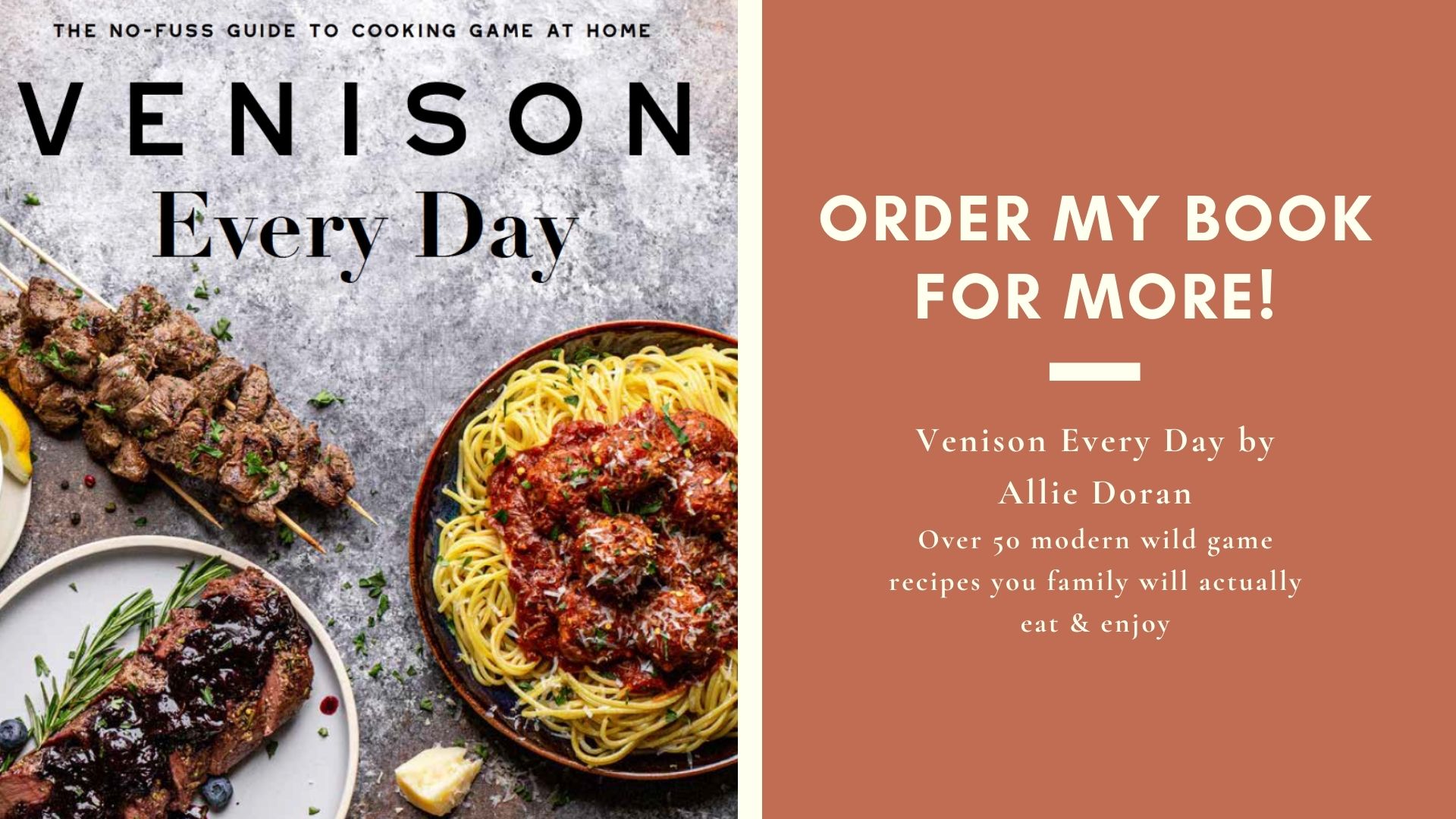 (PSA: My cookbook Venison Every Day is now available for purchase!) When I was finally ready to try my hand at eating red meat again, I knew this would be the perfect dish.
The meat gets fall-apart tender and the stew is PACKED with nourishing veggies and a rich and flavorful broth. The recipe is identical to the insanely popular recipe I wrote a few years ago for Instant Pot Venison Stew. It's just adapted for making on the stovetop, which sometimes I prefer. There's something about stew simmering on the stove, you know? But, if you're an Instant Pot lover and you're short on time, make sure you check out that method, too.
If you're looking for a thick & rich venison stew, this hearty slow cooker venison stew is for you!
How do you get venison to be tender in stew?
This is one of my most frequently asked questions. And for you, I have two tips.
Remove all sinew.
Sear and braise.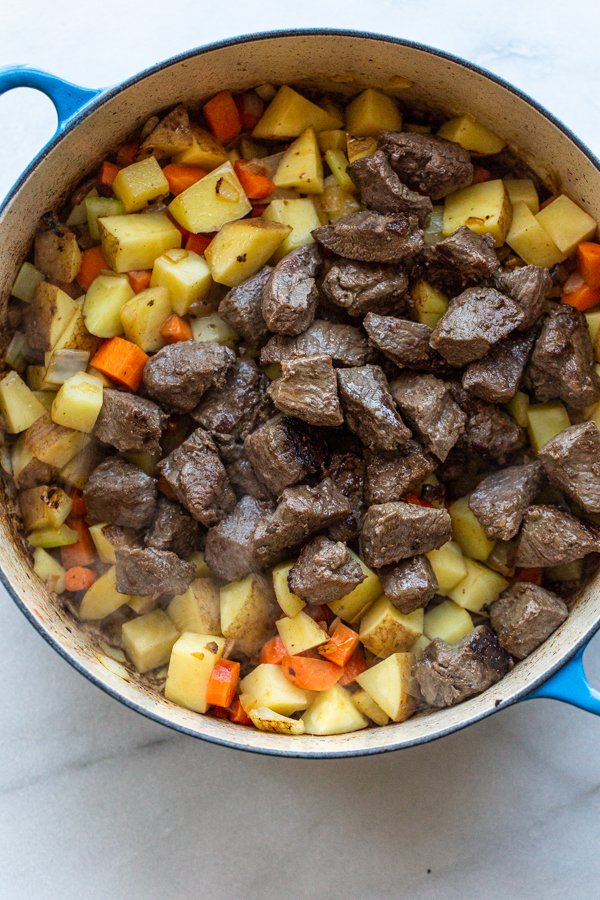 What is sinew, you ask?
Sinew is the silvery connective tissue that you see running through your venison. When it isn't removed, it causes venison to curl up like a rubber band and get really tough.
I love stew because you can cut venison into small, bite-sized pieces and remove the sinew as you go. This helps each bite of venison to be ultra-tender.
Searing and braising are great for venison.
After you cut the venison into bite-sized pieces and remove the sinew, you're going to want to sear it in a pan to add flavor. I also happen to think that searing the meat first and then cooking it low and slow helps to tenderize things.
Once you sear the venison, it gets removed from the pot until all of the veggies have been sauteed and the liquid has been added. When that happens, you add the seared venison back to the pan and it braises (cooks low and slow in liquid) in the broth with the veggies.
I promise you this results in the most tender stew you've ever had in your life. Now, the longer you can let this simmer the better. I like at least an hour, but two hours is better.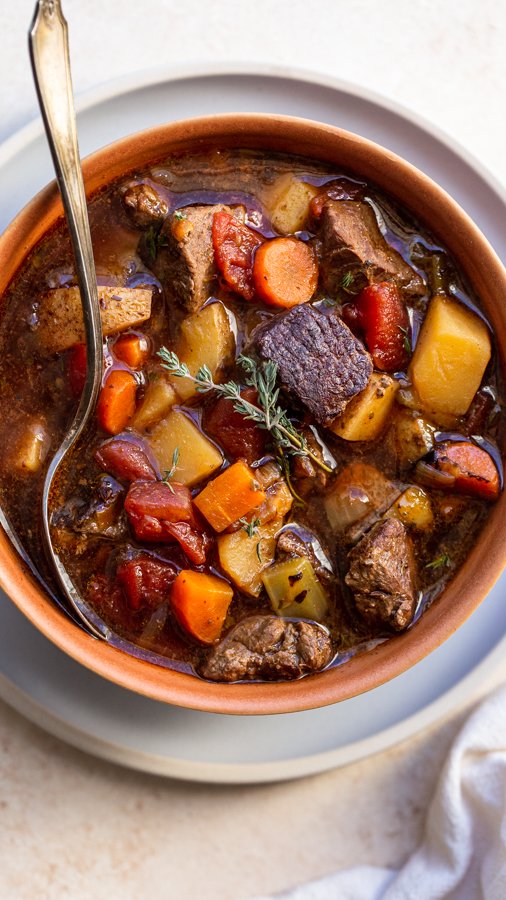 If you're looking for a thick & rich venison stew, this hearty slow cooker venison stew is for you!
Print
The Best Venison Stew You'll Ever Have
This scratch-made venison stew recipe is easy to make and the deer meat is fall-apart tender. It's packed with veggies and simple ingredients. Gluten free, dairy free, paleo, Whole30 friendly. 
Author:
Prep Time:

15 minutes

Cook Time:

1 hour and 15 minutes

Total Time:

37 minute

Yield:

6

–

8

servings

1

x
Category:

Main Dish

Method:

Stovetop

Cuisine:

American
Scale
Ingredients
1

lb. venison, diced with all sinew removed – I used leg meat*

1 Tbsp

. olive oil

2

and 1/2 cups diced potatoes, I left the skin on (about

3

medium potatoes)

2 cups

diced carrots

1 cup

diced celery

1

large onion, diced

2

garlic cloves, minced

2 tsp

. herbs de Provence*

1 tsp

. salt

3/4 tsp

. black pepper

1

15 0z. can diced tomatoes

4 cups

unsalted beef stock or venison stock

3

–

4

dashes Worcestershire sauce
Instructions
Dice the venison into bite-sized chunks, being sure to remove any of the silvery sinew tissue. Leaving this on makes the meat tough.
Add the olive oil to a large pot or Dutch oven and heat over medium-high heat.
When the oil is hot, allow the venison to saute for 5-7 minutes or until the edges start to brown. Remove the venison from the pot and set aside. 
Turn the heat down to medium and add the potatoes, carrots, celery and onion. Allow the vegetables to saute for about 8-10 minutes, or until they begin to soften. 
Then, add the garlic, herbs de Provence, salt and pepper and cook for an additional minute before adding the tomatoes, broth and Worcestershire sauce. Then, add the venison back to the pot. Stir well and bring the stew to a boil.
Once a boil is reached, turn the heat to low, cover the pot with a lid, and allow the stew to simmer for 1-2 hours until the venison is tender. 
Serve hot (is amazing with crusty bread).
Notes
beef would work well, too! You can use any cut of venison, backstrap would be lovely. Leg meat is tough, so this recipe helps it to be tender and delish!
If you want to make this in the slow cooker, saute the venison in a pan and add it to the slow cooker with all of the other ingredients. Let it cook for 4-5 hours on high or 8 hours on low. Head here for an Instant Pot version. 
herbs de Provence is a French spice blend. It's lovely and Wal Mart actually has a great organic variety for under $3. If you have to substitute, use Italian seasoning.