Classic lattice-top apple pie is delicious and really easy to make with this lattice making tutorial. The spices and cooking method are what make this pie.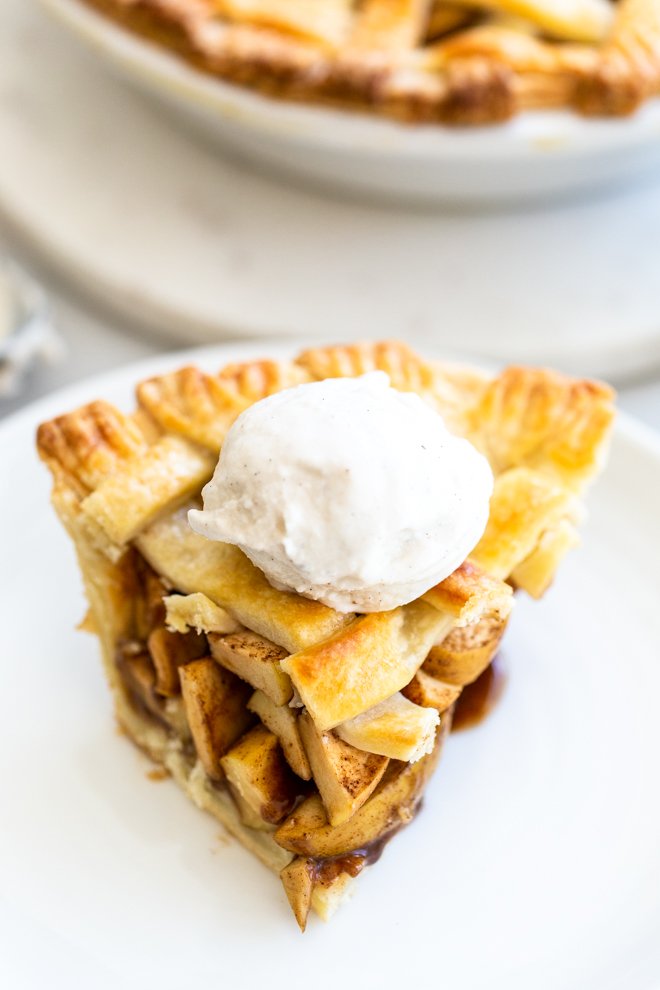 This post has been sponsored by Arctic® apples. All opinions remain my own and thank you for supporting Miss AK!
If I had to choose my all-time favorite dessert, I honestly think it would have to be apple pie. Especially this Classic Lattice-Top Apple Pie.
It's really a toss-up between that and my berry pie recipe, but when push comes to shove, you just can't beat flecks of cinnamon sticking to tender apples slices all covered in caramel-like filling. I mean…come ON!
I don't really like apple pie without some sort of lattice or crumble. SO, I decided to show you how to make my easy lattice crust. It's much simpler than it seems! Follow the step by step photos below and you'll be a pro in no time and you'll be on your way to devouring this Classic Lattice-Top Apple Pie.
What kind of apples are best for Classic Lattice-Top Apple Pie?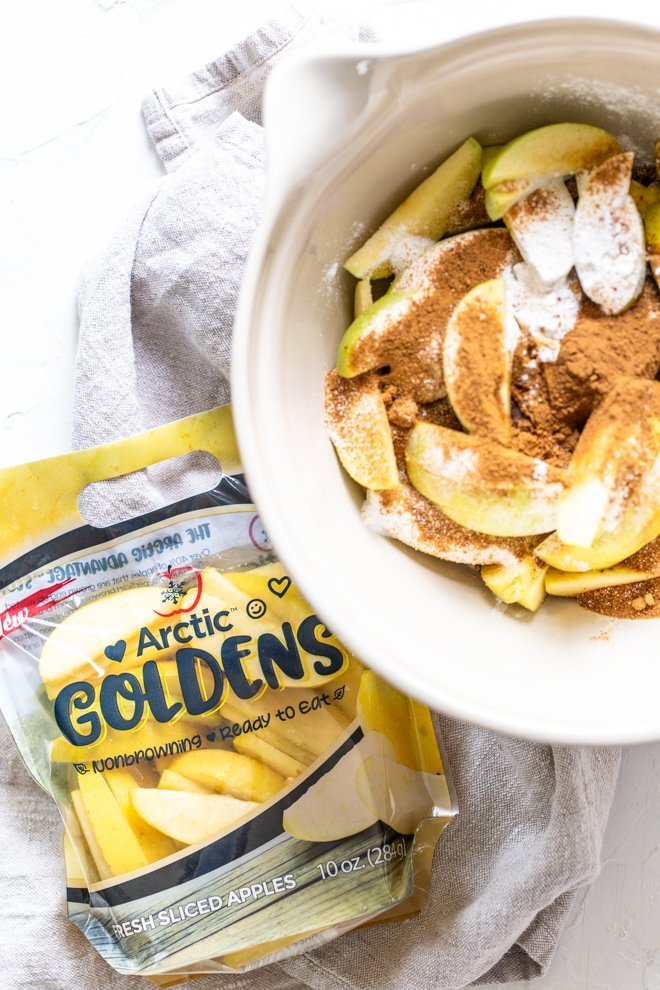 I prefer yellow or green aka Golden Delicious or Granny Smith apples for baking because they're tart so they taste delicious with sugar, but they aren't cloying.
For this recipe I used Arctic® apples – they come pre-sliced and they're formulated to be non-browning apples! These worked really well for this recipe because lattice pies take a bit longer to assemble, so I didn't have any browning and the apples stayed fresh.
Not having to core and slice all of those apples sure made up for the time I spent designing the lattice! Win win!
Homemade or store bought crust?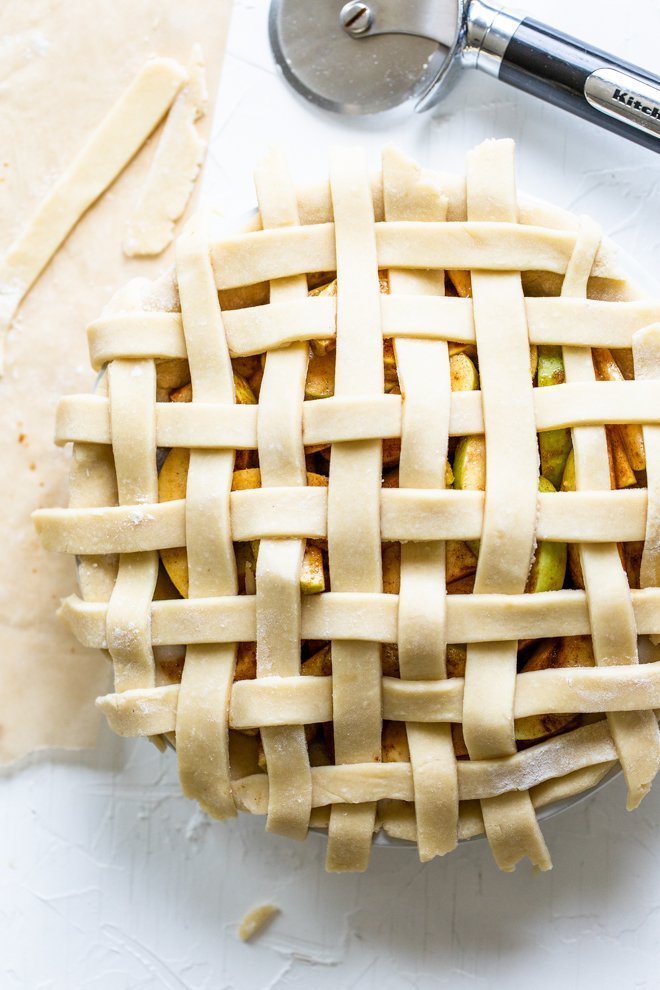 If this isn't your first time visiting my website, you know I'm a stickler for homemade pie crust. It just can't be beat! Try my foolproof recipe, there's even a video tutorial! One batch makes 2 crusts so you can use one half for the crust and one half for the lattice top!
How do you make the lattice crust?
Making a lattice crust is very simple. All you have to do is weave strips of dough in and out of each other on top of the crust. Here are step by step images showing you how to do it:
Favorite lattice tips:
Always make sure you're working with cold dough. Warm dough can stretch and isn't as easy to place.
Cut the dough with a pizza cutter! So much easier to get a clean line!
Give yourself plenty of space to work. There's nothing worse than stressing out because you have a crowded counter.
Take your time. You can always pop your dough back in the fridge if you need a break. It's best to not overwork the dough.
Use Arctic® apples so you don't have to worry about browning and the slicing prep has been done for you!
Practice, practice, practice! Even if your result isn't amazing the first time, try again! It will still taste scrumptious.
Love apple pie? You love my lazy girl rustic apple galette recipe for when you're short on time!
Print
Classic Lattice-Top Apple Pie
Classic lattice-top apple pie is delicious and really easy to make with this lattice making tutorial. The spices and cooking method are what make this pie.
Scale
Ingredients
2

unbaked pie crusts – here's my recipe which makes 2 crusts 

6 cups

Arctic Apple Slices 

1/3 cup

granulated sugar

1/3 cup

coconut or brown sugar

3 Tbsp

. arrowroot powder or tapioca starch 

2 tsp

. apple pie spice 
juice of

1

lemon 

1

egg

1 Tbsp

. water

2 Tbsp

. coarse sugar
Instructions
Preheat the oven to 425 F. 
If you're making your own crust, once your pie crust has been made and it has rested, roll out 1 of the crusts and lay it in a 9-inch pie plate. 
Roll out the other half on a piece of parchment on a flat cookie sheet until it's about 10 inches in diameter. Place both the pie plate and the cookie sheet in the fridge to rest again while you prepare the filling. 
Mix together the apples, granulated sugar, brown sugar, arrowroot powder or tapioca starch, apple pie spice, and lemon juice. 
Remove the crusts from the fridge, and pour the apple filling into the pie plate. 
Using a pizza cutter, cut 3/4 inch wide strips of dough out of the rolled out piece of crust on the cookie sheet. Having this dough cold will make it easier to work with. 
Lay half of the strips of dough lengthwise across the pie, evenly spacing between each strip. 
To make the lattice, take the longest remaining piece of dough and lay it across the center of the pie horizontally. 
Lift every other piece of dough running vertically to cover the piece laying horizontally to create a basket weave look. Refer to the images above to help you! 
Repeat this with each remaining piece of dough until you have a lattice top.
Trim the excess crust from the edge and pinch the dough together using your fingers or a fork. 
Place the pie on to a cookie sheet with a rim* and slide it into the oven for 15 minutes. 
After the 15 minutes is up, remove the pie from the oven and reset the temperature to 350F. Cover the pie with foil. 
Whisk together the egg and water to make an egg wash. 
Bake for 45 minutes before removing the foil and brushing the egg wash all over the pie. Sprinkle with the coarse sugar and bake for 15 minutes uncovered. 
Let the pie cool for 3-4 hours before serving. Best served with vanilla ice cream!
Notes
this keeps your oven clean if the pie bubbles over during cooking. A great tip for all fruit pies.