This Elk Ribeye Steak is tenderized with a cilantro lime marinade and perfectly grilled to medium rare. It's topped with juicy, fresh peach salsa.
WOW. Just WOW, you guys. Elk steak is genuinely my favorite kind of steak. And this elk ribeye steak with peach salsa is no exception. It's crazy juicy, flavorful, tender and the fresh peach salsa adds a layer of interest and brightness.
This post is sponsored by The Honest Bison. As always, all thoughts and opinions remain my own and I'm proud to partner with brands that I love.
The first time I had elk was on my honeymoon. My husband, Jared, and I went to Jackson Hole, WY (here's our restaurant guide, BTW) and we each got the elk medallions at one of our favorite restaurants, Snake River Grill.
We obviously eat venison all of the time, but I was surprised with how tender, sweet and mild the elk tasted comparatively. I thought this was just because of the restaurant preparation.
Turns out – I was wrong! Elk really just is that delicious and you can do it at home!
I've been partnering with my friends at The Honest Bison for about 6 months and I've had the pleasure of tasting different cuts of elk that they humanely source and ship. A lot of you have told me that you love working with wild game, but you aren't able to get your hands on what you want when you want. Or, you might not have a hunter in your life. I started working with them so I could give you a resource and I've been LOVING it.
Unfortunately, Jared hasn't had the opportunity to go on an elk hunt (yet!) but that hasn't stopped us from having elk meat at home.
What part of the body does the ribeye steak come from?
For this recipe, I used The Honest Bison's elk ribeye. Ribeye steaks are harvested from the rib section of the animal. Some come bone in but these were boneless. They're great because they generally have a bit more marbling, or fat distributed throughout.
If you're using your own elk meat and don't have ribeye steak, the marinade I use here would work on almost any cut. Flank steak, medallions, strips – whatever. More on the marinade in a minute.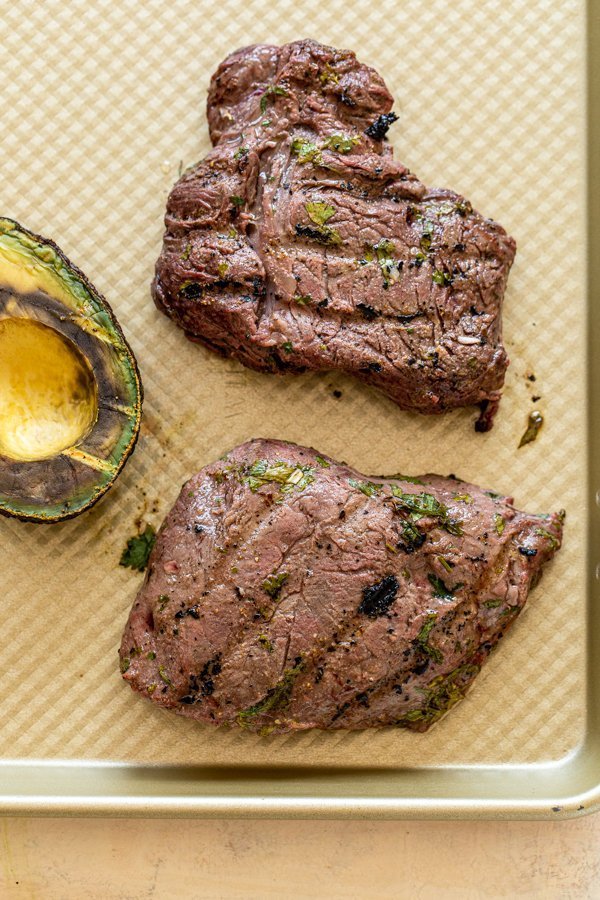 How do you tenderize elk steak?
Even though the ribeye does have more fat than other cuts of meat, you still need to work harder to tenderize it than you would with beef. I simply use a really great marinade with plenty of fat (olive oil) and acid (lime). The olive oil adds needed fat and the acid helps break down the tissue, resulting in a more tender cut of meat.
Also – please make sure you don't overcook the ribeye. I prefer my steaks between rare plus and medium rare – 125-135F. I really don't recommend cooking wild game steak over 135F. That's generally the most common reason you get that "gamey" flavor.
What's in the fresh peach salsa?
This peach salsa is SUPER duper easy. All you do is chop up some peaches, cherry tomatoes, jalapeno, and cilantro and top with lime juice, honey or agave, and olive oil.
I serve the elk ribeyes topped with the peach salsa and a grilled avocado is a great addition to the plate.
Print
Elk Ribeye with Fresh Peach Salsa
This Elk Ribeye Steak is tenderized with a cilantro lime marinade and perfectly grilled to medium rare. It's topped with juicy, fresh peach salsa.
Scale
Ingredients
For the elk:
14 oz

. The Honest Bison Elk Ribeye

2 Tbsp

. olive oil

2

limes, juiced

1/4 cup

chopped cilantro

3

garlic cloves, smashed and roughly chopped

3/4 tsp

. salt

1/2 tsp

. pepper
For the peach salsa:
2

fresh peaches, diced

3/4 cup

diced, cherry tomatoes

2

jalapenos, diced (and de-seeded for a more milk flavor)

1 Tbsp

. chopped cilantro

1

lime, juiced

1 Tbsp

. agave nectar or honey

1/2 tsp

. salt
Instructions
Remove the ribeyes from any packaging and pat dry. Place the ribeyes in a bowl or a zip top bag. 
Mix together the olive oil, lime juice, cilantro, garlic cloves, salt, and pepper. Pour the marinade over the ribeyes and place in the fridge for a least 1 hour or up to 4. 
When you're ready to grill, remove the ribeyes from the fridge and let them come to room temperature while you preheat your grill. 
Preheat your grill over medium-high heat or a wood pellet grill to 450F. 
Grill the steak for 3-4 minutes per side, or until about 125-135F, or rare to medium rare. Pull them off the grill and let the steaks rest for 10 minutes before serving.
While the steaks grill, mix together the diced peaches, diced tomatoes, diced jalapenos, cilantro, lime juice, honey or agave, and salt.
Serve the salsa over the rested ribeyes.