Roasted tomatoes and garlic make this the best bruschetta in the world. It's so easy to make – no chopping tomatoes involved.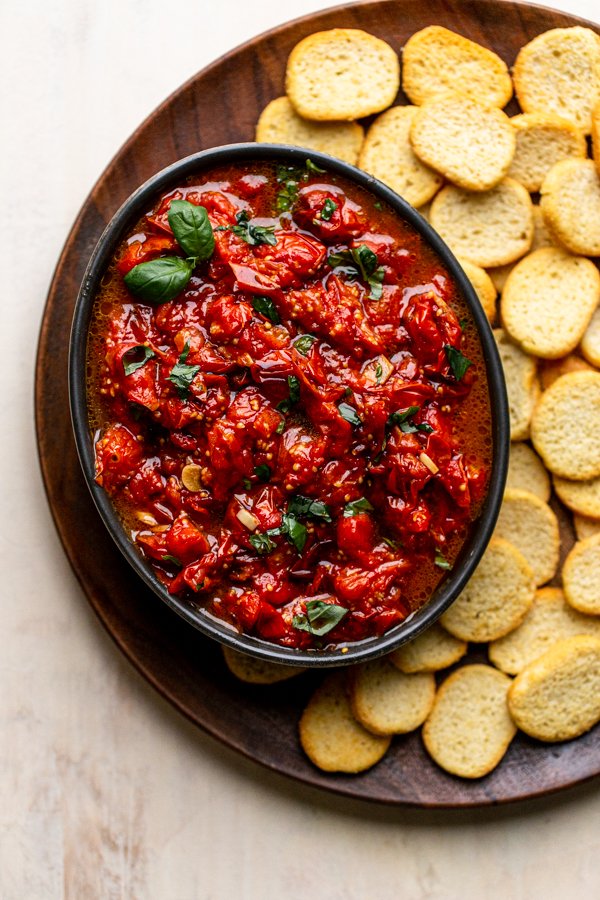 Sunday night dinners in our house usually end up to be some sort of Italian feast. J and I both have an undying love for gnocchi, pasta, more pasta, and pasta eaten straight out of the colander. Italian food is simple, and I grew up spending Sunday nights with my dad babying our latest sauce creation. Bruschetta is always the perfect appetizer.
So, a few weeks ago, J and I were wandering through the grocery store grabbing some odds and ends for our dinner, and he announced he had a hankering for bruschetta. LIGHTBULB MOMENT!
I said – "ooh I want to roast the tomatoes first and then make it". I could see J inwardly groan, the man really just wanted some classic bruschetta. I have a tendency to go crazy with classics. We came home, started on our dinner, and I popped those little tomatoes in the oven with a healthy sprinkling of sliced garlic and a glug of olive oil.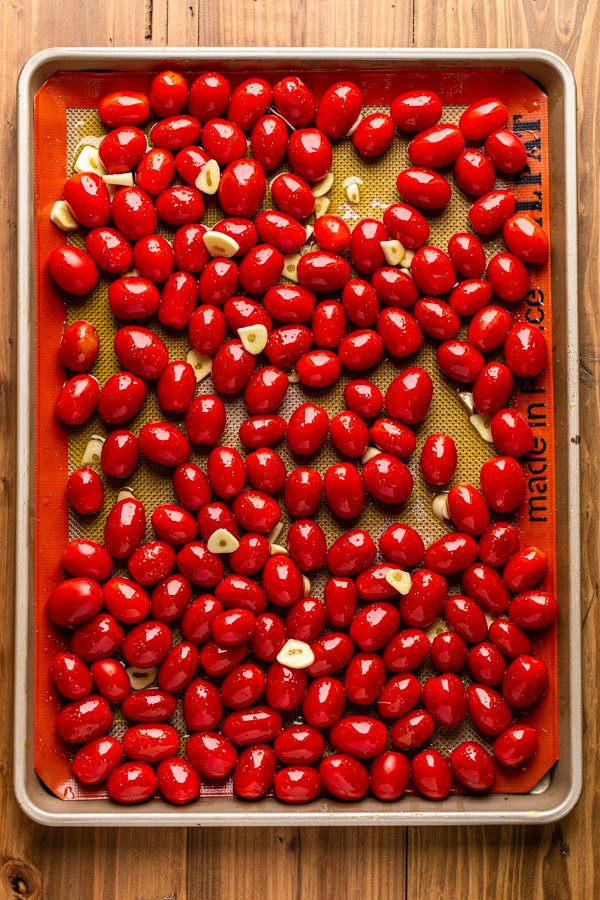 Sometime later when the tomatoes and garlic were roasted, I gave them a rough slice, added some basil and drizzled a bit of balsamic reduction. I sent him into the other room with the bruschetta and some crostini and a few seconds later, shouts of joy pretty much erupted from the other room.
THIS BRUSCHETTA DIP IS BOMB…and it's so dang simple. I just had to make it again and give you the recipe for the Holidays. It's red and green and refreshing & just a tad unexpected. You absolutely MUST make it. I honestly think this one makes my top 10 OTB. Seriously.
What do you need to make this roasted tomato bruschetta?
Grape or cherry tomatoes
Garlic
Olive oil
Basil
Balsamic reduction
Salt
Pepper
Crostini of your choice (I use my homemade sourdough toasted with olive oil)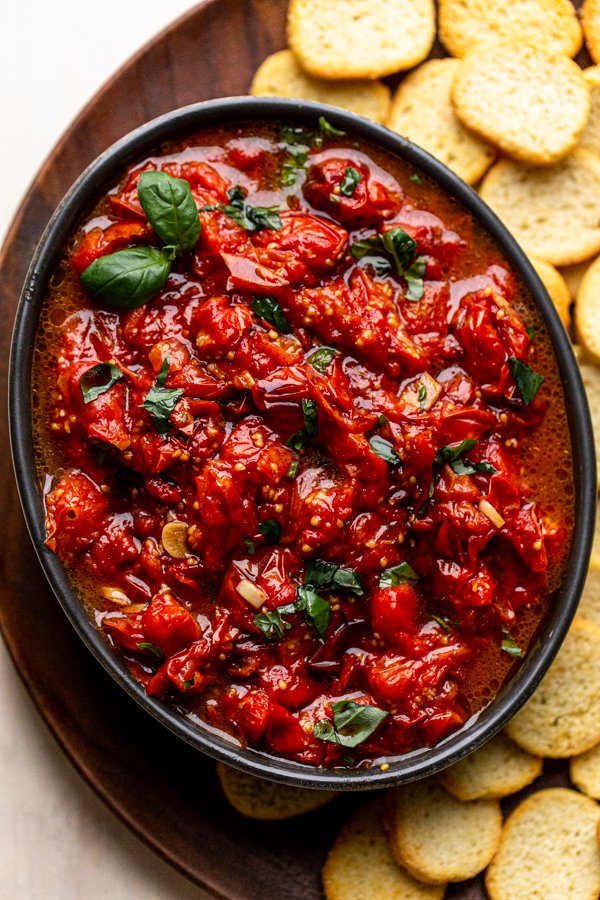 How do you make this easy appetizer?
This is the easy part. With traditional bruschetta, you have to chop a bunch of tomatoes, onion, and garlic. With this recipe, you just dump pints of cherry tomatoes on a sheet pan, sprinkle on some sliced garlic, and after you glug on some olive oil, it roasts in the oven until all of the tomatoes burst and reduce.
You can give everything a rough chop if you'd like, or just sprinkle on some chiffonaded basil and call it a day. Oh, and don't forget the balsamic glaze drizzle. I just snag some balsamic reduction at the grocery store, you can find it right next to the vinegar. Or, if you want to get crazy, make your own!
Love easy appetizers? You have to try my roasted grape crostini recipe! You won't believe what roasting grapes does to the flavor! Don't just take my word for it, make it!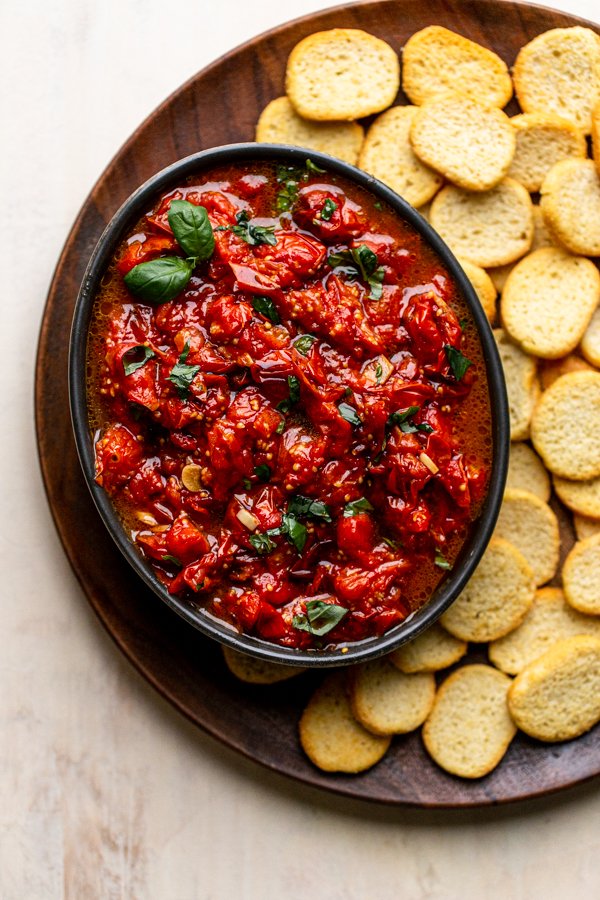 Print
Ingredients
Instructions
[tasty-recipe id="9361"]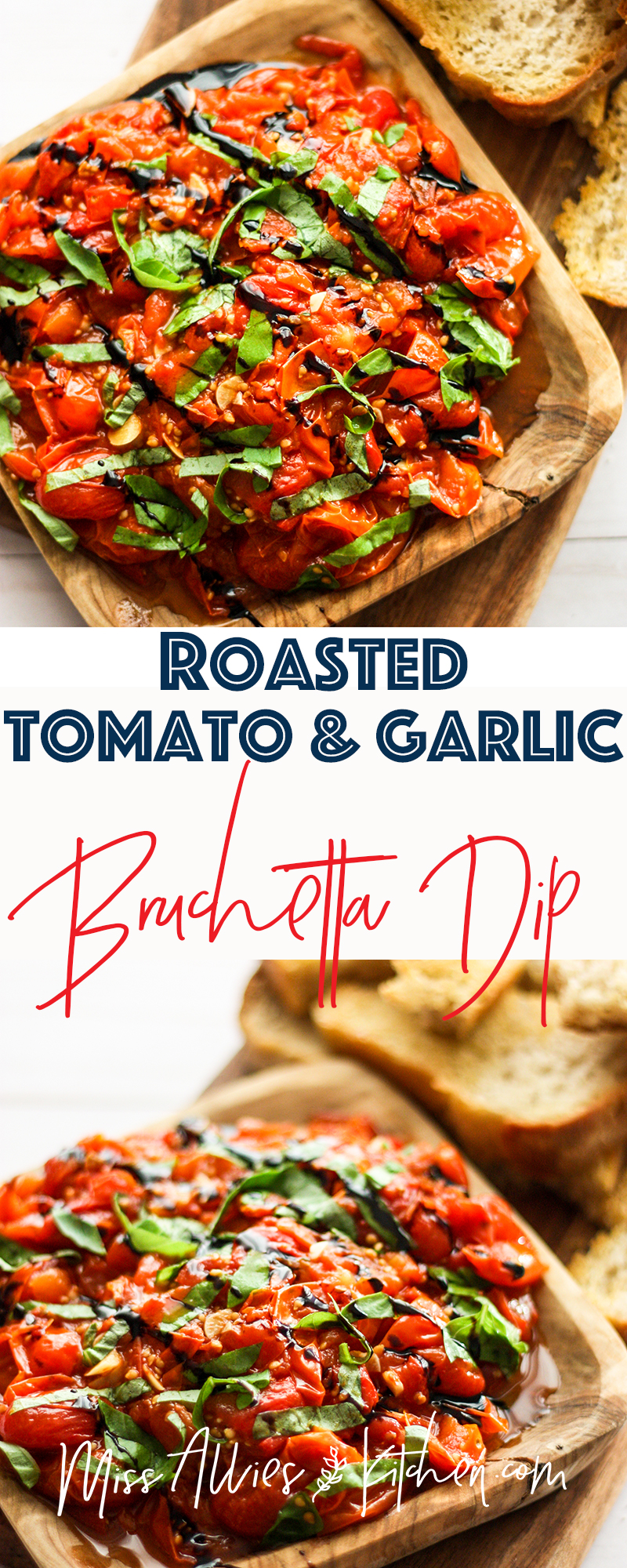 This post was originally published in December 2017 and was updated in December 2019.