Learn how to make a delicious Smoked Manhattan Cocktail at home that any bartender would be proud of. You don't even need a smoking gun!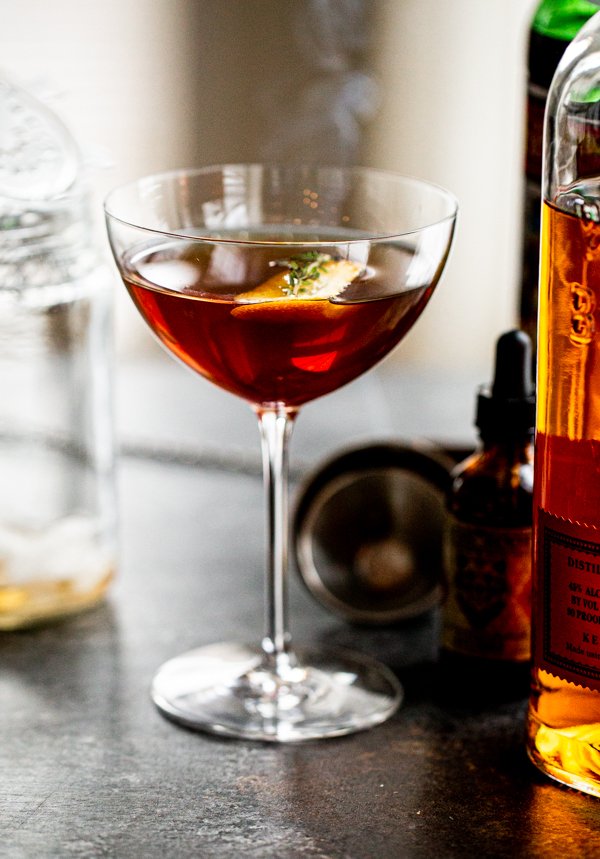 We've got a new obsession in our house – Smoked Manhattans! They totally kick your classic bourbon-based cocktail into the next gear. You seriously HAVE to give this a try.
I know, I know. You're probably thinking…"Allie, why do I need to try this? Can't I just make a regular drink? I'm not wasting my money on fancy smoking equipment!".
I'll stop you right there. You don't need any fancy equipment and you have to try this because the flavor pairing of bourbon and a kiss of smoke is out of this world.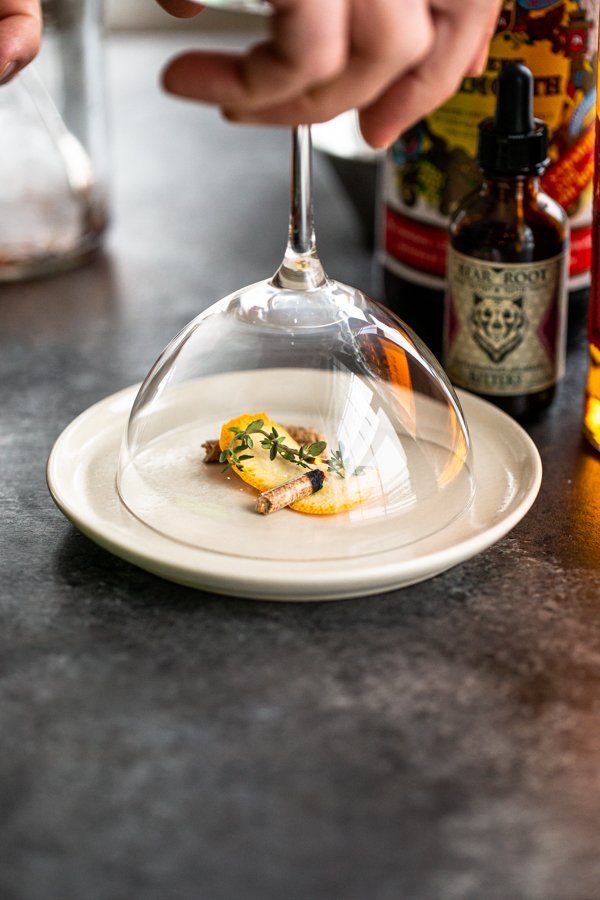 What's the deal with smoked cocktails?
I remember the first time I experienced a smoked cocktail. I was in Italy with my family and my dad, brother and I decided to check out this speakeasy in Rome. To even locate the little bar was a really fun and interesting process. It was sort of like a scavenger hunt for the location and password to be admitted. Neat, right?
When we finally gained entrance, we ordered some drinks. I ordered a 1920s style gin punch that was OUT of this world. And my dad and brother ordered bourbon based drinks. I honestly have no ideas exactly what they were, but they were served under a cloche with a burning tobacco snifter. Honestly, the drink was more of an experince and we were all BLOWN away.
SO, it's 5 years later and I still think about those drinks. I've been seeing smoked cocktails pop up over the interwebs and I had to give it a try for myself. The flavor and the art of crafting a next-level cocktail are just beyond fun.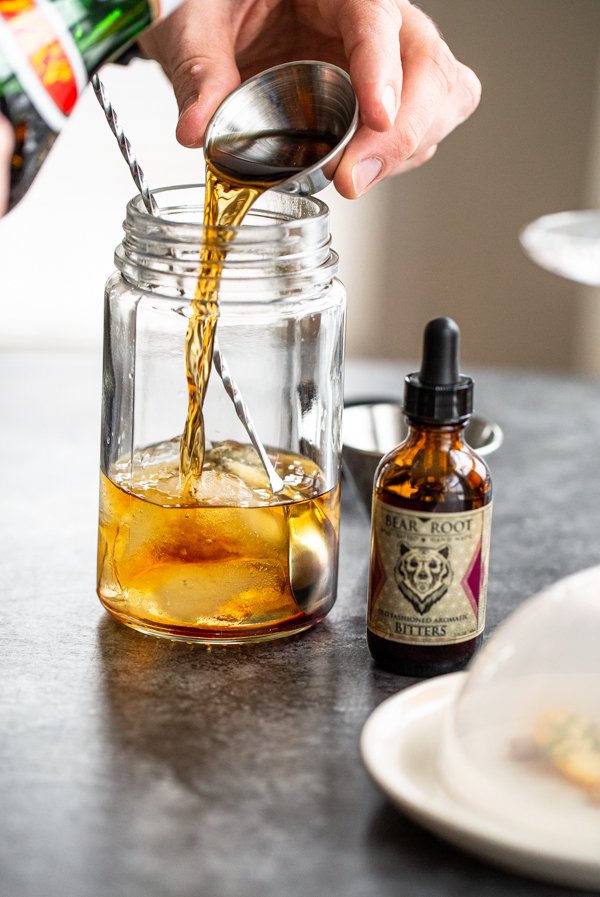 Why smoke a Manhattan?
There's a reason why you often see things labeled "whiskey smoked". The flavor pairing of smoke and a whiskey or bourbon based drink is sublime. It's something about the notes from the wood bourbon barrel married to that sultry olfactory experience that makes your nose and tastebuds sing.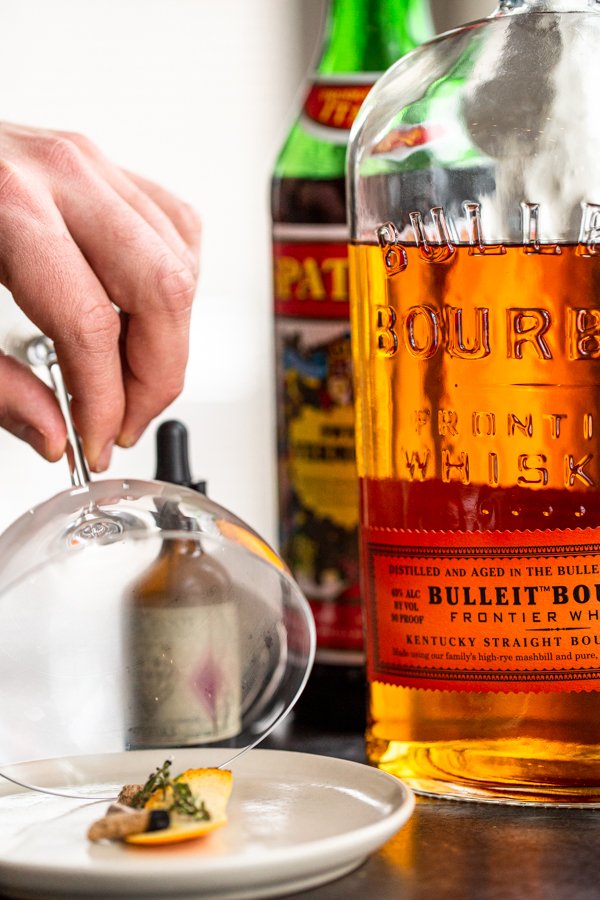 How do you make a Smoked Manhattan without a smoking gun?
This is actually so easy. But, as always when playing with fire (especially indoors), please use caution!
Anyway, all you need to do is grab a smoking chip OR you can even use a few pellets from a wood pellet grill. You do want to use a kitchen torch or something with a strong flame igniter, a regular lighter won't really do the job as well. You'll also want to grab the cocktail glass you plan to serve the drink in.
Light your fire starter (the chip or pellets) and place it on an old plate or slate cutting board. You can add some aromatics like citrus peel or herbs (I like orange and thyme). Then, immediately cover the fire with your cocktail glass by turning it upside down over the fire. Let the glass sit and trap the smoke while you make the drink.
Make your Manhattan as per usual and don't touch the glass (always stir, don't shake). When you're ready to pour your drink, quickly turn the glass over and immediately pour in the cocktail. I like to add the smoked citrus and herbs to the drink along with the cherry.
Cheers! I know you're going to LOVE this one!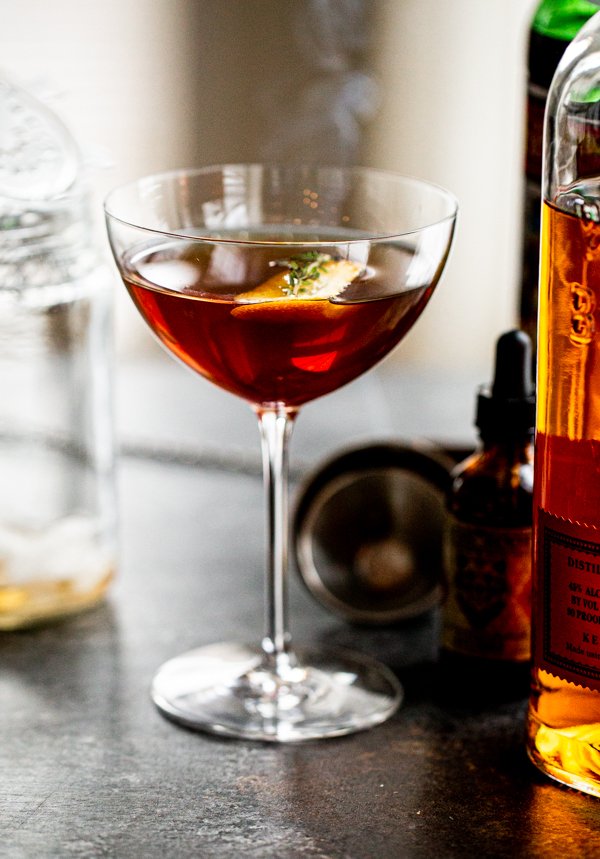 Print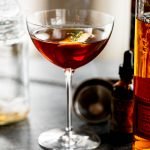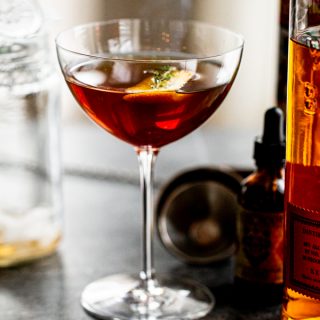 Smoked Manhattan Cocktail
Learn how to make a delicious Smoked Manhattan Cocktail at home that any bartender would be proud of. You don't even need a smoking gun!
Scale
Ingredients
3oz bourbon⁠
1 oz sweet vermouth ⁠
3-4 dashes of aromatic bitters ⁠
1-2 maraschino cherries ⁠
A few smoking chips or even a couple of pellets from your @traegergrills , citrus peels, and/or fresh herbs ⁠
Instructions
To start, light your smoking chip or pellets with a kitchen torch (CAREFULLY!). Place the citrus peel and/ or herbs on the burning chip/pellets. Blow the flame out and immediately cover the smoking pile with your cocktail glass. Do this on an old plate or slate cutting board. ⁠
⁠
While the glass smokes, make the cocktail. Add the bourbon, vermouth and bitters to a cocktail shaker or glass and stir vigorously to combine. ⁠
⁠
When you're ready to pour your drink, quickly turn your glass over and pour in the drink while it still has some smoke in it. Then add the smoked citrus, herbs and the cherry