This is the best, classic Black Raspberry Pie recipe with blackberries and raspberries. It's touched with lemon and sugar, all baked in the best pie crust ever. Simple is best here.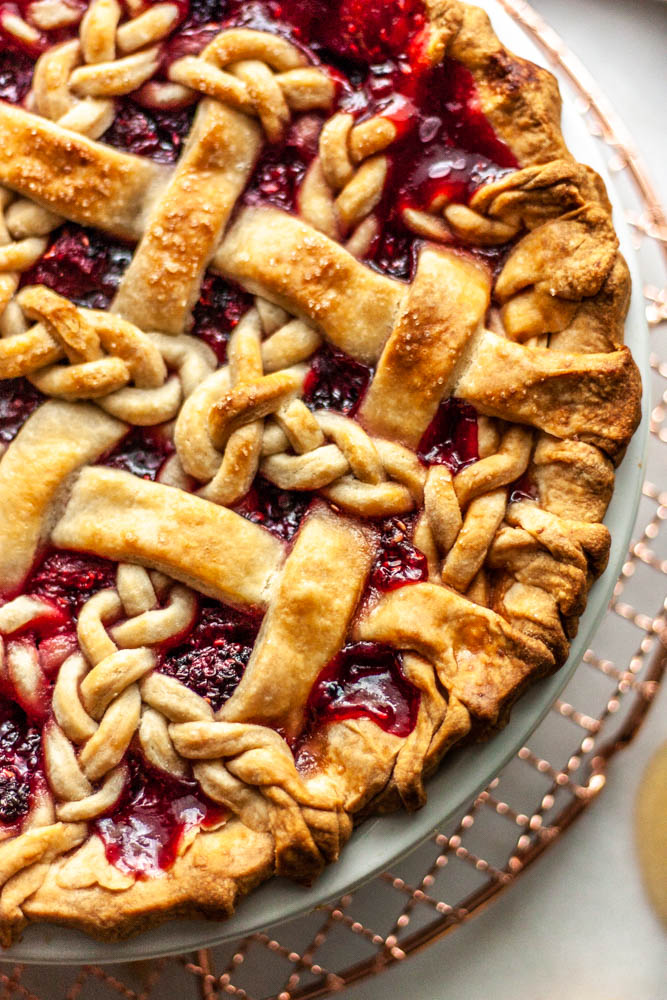 post may contain affiliate links. 
Ahhhh pie. My favorite dessert of all time. Hands down. FOREVER AND EVER. Especially this one, which is the best Black Raspberry Pie ever.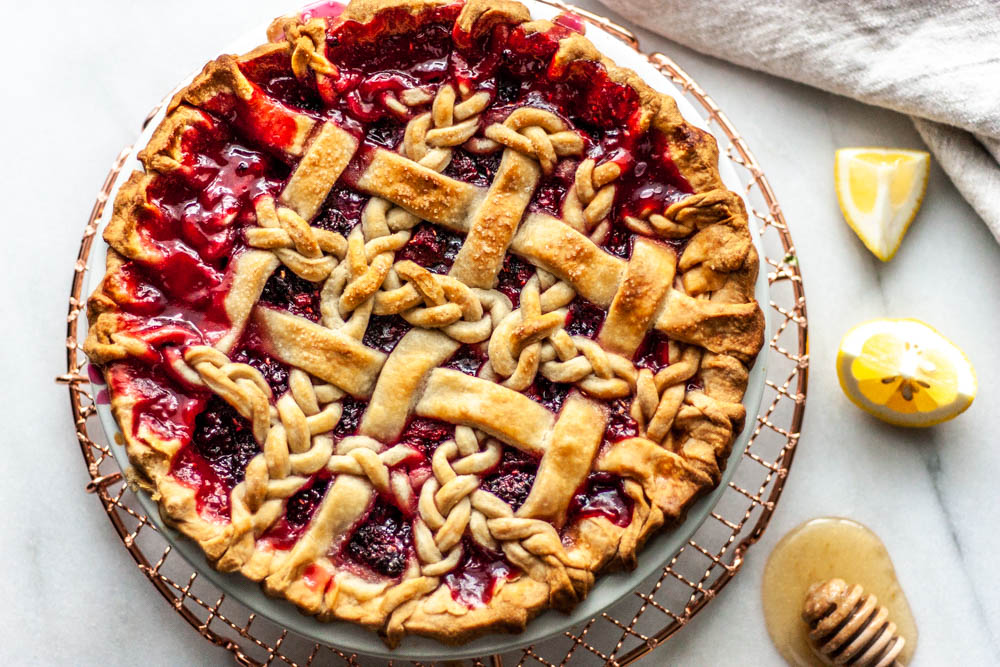 Pie is one of the first things I started making by myself as a kid. I tried a few recipes here and there and I've been using this crust for YEARS. A full tutorial is included there, and if you follow my steps, you'll be surprised at how simple and easy it is. Pretty soon, you won't even need to look at the recipe.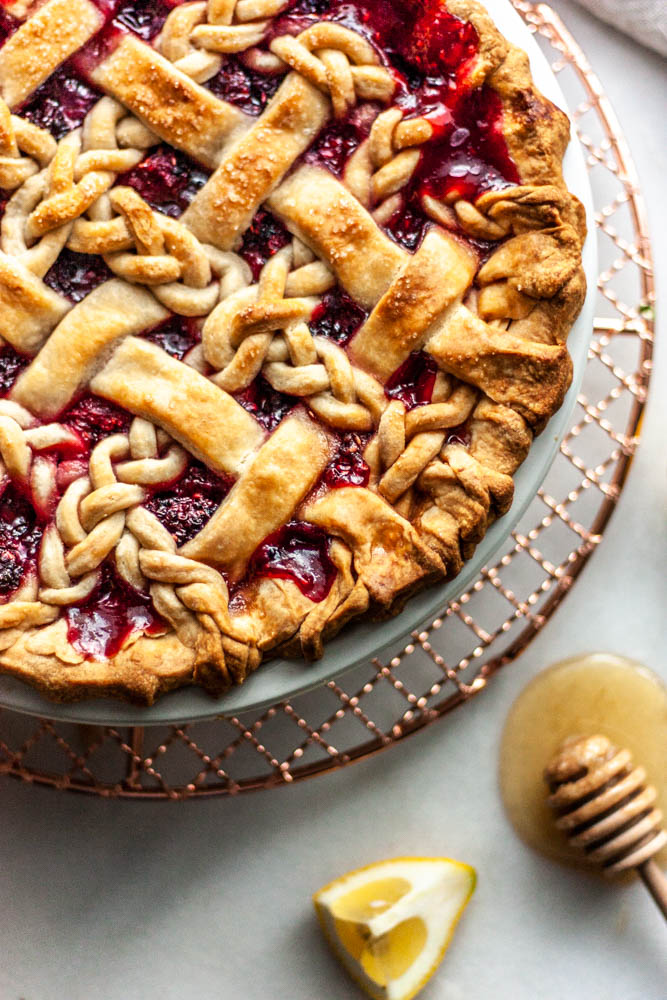 Pie is pretty organic, too. Which is why I like it. It doesn't have to be the most flawless thing (like cake, ugh) and you can kind of play around with what you put in the filling.
What berries go in the best black raspberry pie?
Raspberries and blackberries, of course. I think these two berries are the perfect marriage of tart flavors for a simple pie. AND, you don't have to hull, slice or dice anything like you have to with strawberries, peaches, and apples so it's way faster. Ya see what I did there? Made it easier on ya. That's how I do, and you sure do need to make this pie!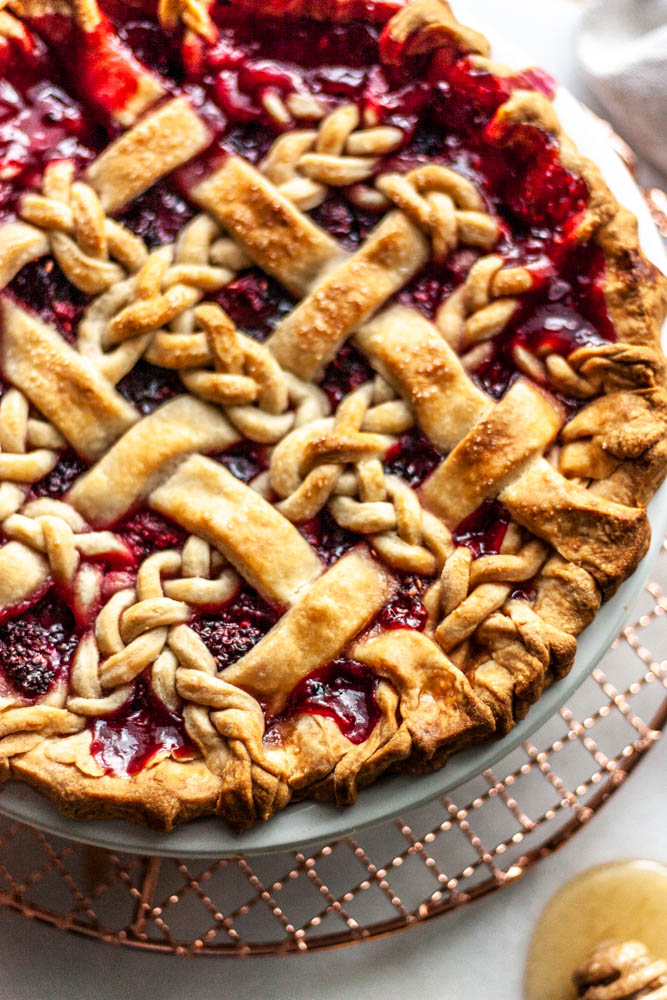 How do I make that pretty lattice crust?
So kind of you to ask! I have an in-depth lattice crust tutorial in THIS POST and all you have to do is cut a few of the lattice strips into thirds and braid them. As I said, it doesn't have to be perfect to taste yummy! Here's a great video if you're visual like me!
Don't forget to treat yourself to a pretty little pie plate, too. This one is my favorite!
Check out my recipe for pie dough and these other yummy pies/tarts:
Print
Black Raspberry Pie
If you want a simple and classic pie recipe, this Black Raspberry Pie is it. Blackberries and raspberries are touched with lemon and sugar, all baked in the best pie crust ever.
Author:
Prep Time:

10 minutes + 30 minutes rest time

Cook Time:

1 hour 10 minutes

Total Time:

0 hours

Yield:

8

people

1

x
Scale
Ingredients
Homemade or storebought pie crust – here's my homemade recipe that's perfect (if you want to make a covered top or lattice top pie like I did, make that full recipe. If you don't want a top to your pie, you can cut the recipe in half. It makes enough for 2 crusts.)

3 cups

raspberries

3 cups

blackberries

1 cup

granulated sugar (OR

1/2 cup

granulated sugar and

1/2 cup

honey)
juice of

one

lemon

3 Tbsp

. tapioca starch (could sub arrowroot powder)

1 Tbsp

. heavy cream, half and half or whole milk
about

1 Tbsp

. sugar for sprinkling (I like a coarse granulated sugar)
Instructions
If you're making your own pie dough, start by doing that. Here's my recipe.
After making the dough, divide it into two discs, wrap in plastic, and chill in the fridge for at least 30 minutes.
Just before you're ready to roll out your dough, wash and dry your berries.
Pour them in a bowl and add the sugar (and honey if using), lemon juice, and tapioca starch. Mix together gently to combine, but be careful not to break apart all of the berries. Set aside.
Roll out your pie dough. Press into the pie pan and place back in the fridge for 30 additional minutes.
Preheat the oven to 425 degrees F.
When the dough has chilled again, pour in the berry pie filling. Top the pie as you please (see notes for lattice instructions).
Brush the cream on the crust. Sprinkle with the coarse sugar or regular sugar.
Place the pie plate on a baking sheet and cover with foil.
Bake for 25 minutes before turning the oven down to 350 degrees F. Remove the foil. Bake for an additional 40-45 minutes or until the crust is browned and the filling is bubbling.
Cool on a wire rack almost completely before serving so the filling can set up.
Notes
If you want to make the lattice top seen here:
Make my full recipe for pie dough, or use 2 store-bought crusts.
When you roll your cust out to press into the pan, roll out the other crust.
Take the extra crust and cut it into even strips with a pizza cutter. If you want some braided pieces, cut a few of the strips into thirds.
Braid the selected pieces and pinch the ends. Place all of the strips back into the fridge until you have filled the pie. This makes it easier to work with.
When the pie is filled, weave it. Here's how you weave it, I really like this video.
Brush with the cream, sprinkle with the sugar and pop in the oven and bake as directed!