Craving cabbage rolls but don't have time to roll them out on a weeknight? Try Cabbage Rolls In A Bowl for an easy (and potentially lower carb) hack! You can easily use ground beef or any red meat you have on hand like venison.
AN EXCITING TWIST ON A CLASSIC DISH
Looking for a cozy and family-friendly meal that puts a unique twist on a classic stuffed cabbage dish? Look no further than Cabbage Rolls in a Bowl! This delicious recipe combines the rich and savory flavors of meat and sauce with the comforting goodness of classic cabbage rolls, all in one convenient bowl. It's the perfect meal for those chilly nights when you crave something hearty and satisfying without all of the mess of rolling individual cabbage leaves.
I make this recipe with venison because we eat a lot of wild game in my house. Whether you're a venison lover, looking for a low carb or keto dinner, or just wanting to try something new, this recipe is sure to become a family favorite. So get ready to indulge in a bowl of pure deliciousness! If you don't have venison, just use beef!
If you're looking for more venison recipes, check out my cookbook, Venison Every Day!
INGREDIENTS AND KITCHEN TOOLS
Let's dive into the mouthwatering ingredients you'll need to create your Cabbage Rolls in a Bowl masterpiece! You'll need some: ground venison (alternatively, you can use ground beef or bison if you prefer), ground pork, a head of cabbage, cooked white rice (or any other grain of your choice), tomato sauce, onion, garlic, spices, Worcestershire sauce, chicken stock (I bet beef broth would work as well), and salt & pepper to taste.
As for kitchen tools, make sure you have a large pot or Dutch oven, a sharp knife for chopping, a cutting board, and a wooden spoon or spatula for stirring.
Now that we have everything prepared, let's move on to the next step in this delectable journey of flavor!
STEP BY STEP | PREPARING & ASSEMBLING THE PERFECT VENISON FILLING
Now it's time to dive into the heart of this recipe by preparing and assembling the perfect venison filling. Get ready to witness the flavors meld together in a symphony of deliciousness!
Step 1: Cook/boil the rice according to the package directions.
Step 2: In a large skillet or Dutch oven, heat some olive oil over medium heat. Sauté the diced onions until they become fragrant and slightly translucent.
Step 3: Add the ground venison/beef and ground pork to the skillet and cook until the meat is browned and cooked through.
Step 4: Add garlic for 2 minutes before adding the remaining spices. Mix and let everything saute for about 1 minute before adding the cabbage.
Step 5: Cook for 5 minutes and then add the tomato sauce and chicken stock/water.
Step 6: Cook partially covered, mixing occasionally for at least 15 minutes but up to 1 hour.
Step 7: Finally, serve over the cooked white rice (or your grain of choice) and enjoy!
TIPS & TRICKS | FOR THE BEST VENISON CABBAGE ROLLS IN A BOWL RECIPE
Congratulations on reaching the final steps of preparing your venison cabbage roll in a bowl! To ensure that your dish turns out absolutely perfect, here are a few tips and tricks to keep in mind:
1. Taste and adjust: As you cook, don't be afraid to taste the filling at different stages and adjust the seasonings to your preference. Remember, cooking is all about personal taste, so feel free to add a pinch of additional spices or a splash of Worcestershire sauce if desired.
2. Get creative with toppings: While the filling itself is incredibly flavorful, don't hesitate to add some extra toppings to take this dish to the next level. Consider sprinkling some freshly grated Parmesan cheese, chopped green onions, or a dollop of Greek yogurt on top before serving.
3. Make it ahead: If you're planning to serve this dish for a gathering or want to save time during a busy weeknight, you can prepare the filling ahead of time and store it in an airtight container in the refrigerator for up to three days. When ready to serve, simply reheat the filling and assemble your bowl with fresh cabbage and rice.
Follow these tips, and you'll be well on your way to enjoying a delicious and satisfying venison cabbage roll in a bowl. In the next section, we'll delve into the presentation and serving suggestions to make your dish truly shine. Stay tuned!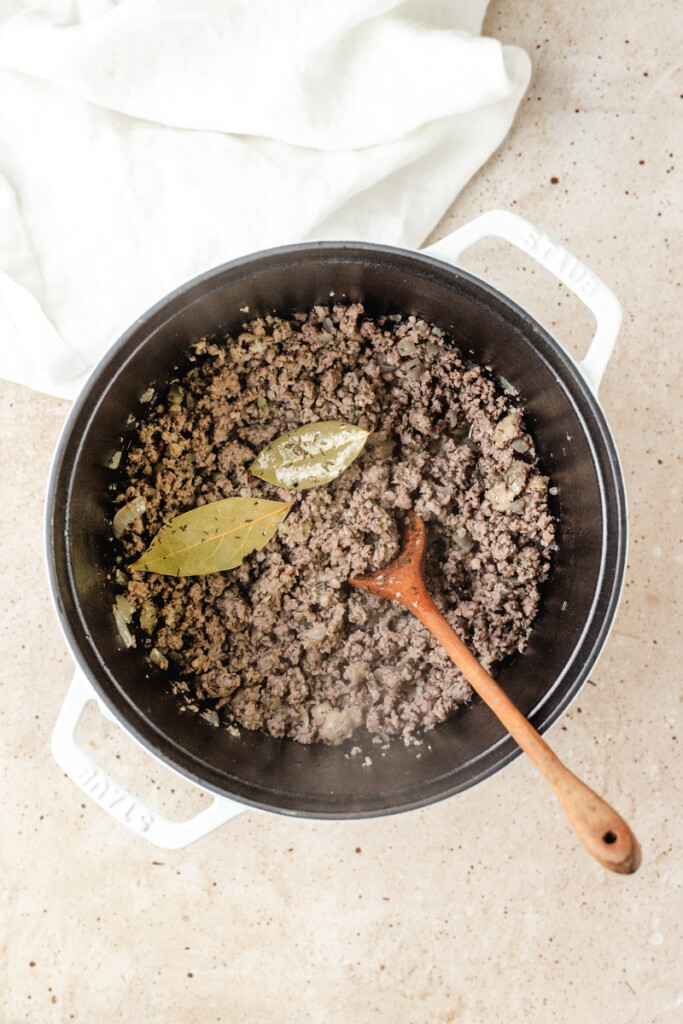 HOW TO SERVE
Now that your venison cabbage roll in a bowl is ready to be served, let's talk about how to present and enjoy it to the fullest!
We love serving this over some cooked rice, but really any grain (or even potato!) will work. This will provide a base for the cabbage rolls and soak up all the delicious flavors.
You can also garnish your cabbage rolls in a bowl with some fresh herbs, like parsley or cilantro, for an extra burst of freshness.
This dish is perfect for a cozy dinner at home or for impressing guests at a dinner party. Bon appétit!
STORING AND REHEATING
Storing & reheating your delicious cabbages roll in a bowl is just as important as the cooking process. After you've indulged in this mouthwatering meal, you may find yourself with some leftovers. Luckily, this dish stores well and can be enjoyed again later.
To store your bowls, simply transfer any remaining portions into airtight containers or wrap them tightly in plastic wrap. Place them in the refrigerator for 3-5 days. For longer storage, you can freeze your leftovers for up to 3 months. Freezing can help preserve the flavors and textures of the dish.
When it's time to enjoy your leftovers, you can reheat them by either microwaving them on high for 2-4 minutes or reheating them in a preheated oven at 350°F for about 15-20 minutes, or until heated through.
Now you can savor the flavors of your cabbage rolls in a bowl, even after your initial serving.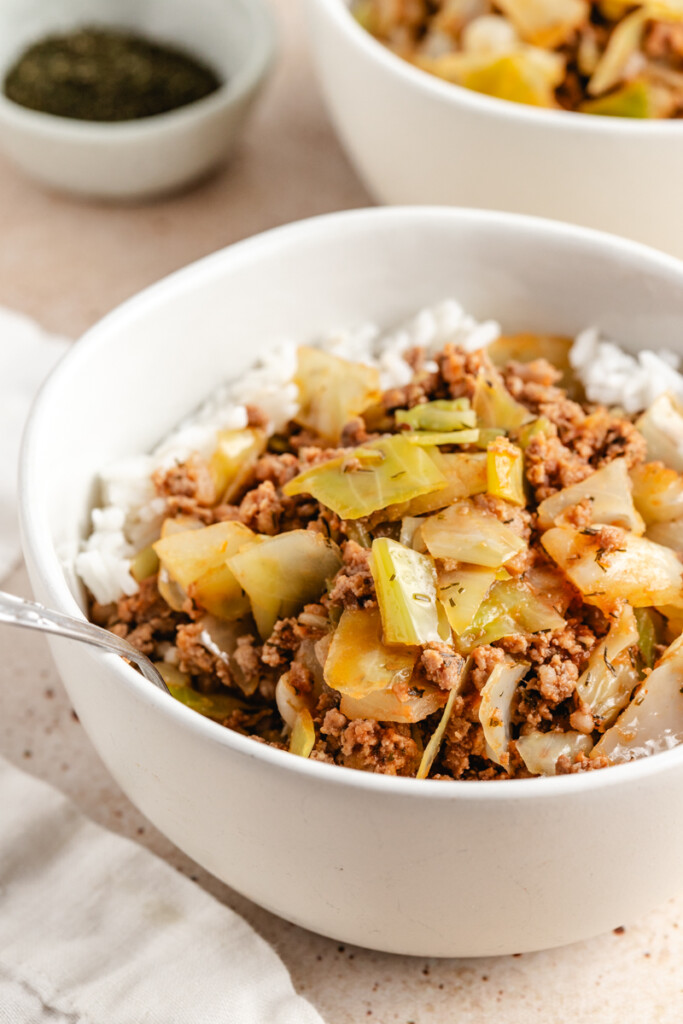 OTHER COZY GROUND VENISON RECIPES | CHILI, EGG ROLL IN A BOWL, AND
If you're a fan of venison and looking for more delicious ways to enjoy it, you're in luck! Ground venison is incredibly versatile and can be used in a variety of dishes. Warm up on a chilly day with a bowl of hearty and flavorful Award-Winning Venison Chili. Made with a combination of spices, beans, and tomatoes, this dish is a crowd-pleaser that will have everyone coming back for seconds. My Best Ever Venison Meatballs will take your meatball game to the next level by using ground venison. Whip up a batch of tender and juicy meatballs and serve them over spaghetti or as an appetizer with your favorite dipping sauce. Venison Egg Roll in a Bowl is a healthy, fast, and flavorful way to use up ground deer meat for a light dinner or meal prep idea. These Venison Tacos will add a wild twist to taco night by swapping out traditional beef for ground venison. Season it with Mexican spices and serve it with your favorite toppings for a delicious and unique taco experience. These are just a few ideas to get you started, but the possibilities with ground venison are endless.
Happy eating!
Print
Venison Cabbage Rolls In A Bowl
An incredible twist to a classic family favorite. Venison takes this dish to the next level for an even more delicious flavor. Don't have ground venison on hand? You can easily use ground beef or any other wild game you have on hand! 
Scale
Ingredients
1 Tbsp

. olive oil

1 Tbsp

. butter

1

onion, diced 

1

lb. ground beef or venison 

1/2

lb. ground pork

4

garlic cloves, minced 

1 Tbsp

. fresh or

1 tsp

. Dried dill

¼

–

½

tsp. Caraway seeds

2

bay leaves 

½

large head of cabbage, chopped (about

4 cups

)

1

, 14.5 oz can tomato sauce 
About

1 cup

chicken stock or water 

1 cup

rice of choice, cooked according to package directions
Instructions
Cook the rice according to the package directions. 

Add the butter and oil to a large skillet or dutch oven over medium heat. 

Once the butter is melted, add the onions and saute for about 5 minutes, or until golden brown.

Then, add the beef and pork and saute until browned. 

Then, add garlic for 2 minutes before adding the dill, caraway and bay leaves. Mix and let everything saute for about 1 minute before adding the cabbage. 

Cook for 5 minutes and then add the tomato sauce and chicken stock/water. 

Cook partially covered, mixing occasionally for at least 15 minutes but up to 1 hour. 

Serve over rice & enjoy!