Here are some of my favorite Venison Crock Pot Recipes that you can quickly throw together in the slow cooker and you'll love the results of a hearty, delicious deer meat meal that the whole family will enjoy.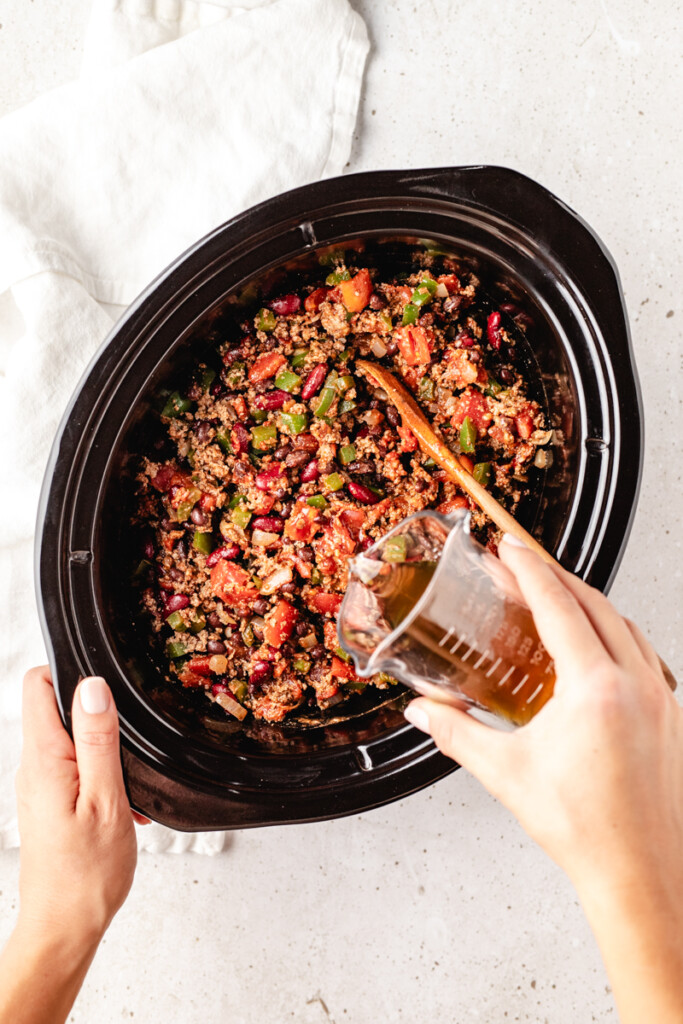 Y'all I LOVE a slow cooker night. I have a toddler, and my husband and I run 3 businesses so some days are just busy. These venison crock pot recipes are staples I live by!
KEY INGREDIENTS TO HAVE ON HAND WHEN COOKING VENISON
When preparing venison crock pot recipes, there are key ingredients that I like to keep in my pantry and fridge so that I can always whip something delicious up when I defrost deer meat from my deep freezer. Here's what I like to have on hand:
1. Venison: The star of the show, ensuring you have fresh and high-quality cuts is essential. You can also use a variety of game meat for these recipes as well, elk, moose, antelope and so much more!
2. Herbs and Spices: My staples include Italian seasoning, herbs de Provence, curry powder, garlic powder, onion powder, thyme, salt and pepper. My cookbook has a whole list!
3. Marinades: A good marinade can tenderize the meat and bring out its natural flavors. Consider using red wine, Worcestershire sauce, or balsamic vinegar as a base for your marinades. I also have an incredible All-Purpose Marinade that is perfect for any cut of meat.
4. Stock or Broth: Stock or broth (chicken, vegetable, or beef broth all work) is the perfect liquid ingredient to have on hand to add to recipes, it helps keep the meat moist and intensifies the overall taste. Check out my Homemade Venison Stock recipe!
5. Butter or Olive Oil: These fats are perfect for cooking venison as they add richness and prevent it from drying out.
6. Vegetables: Pairing your venison with vegetables, such as potatoes, carrots, onions, and garlic cloves, not only adds color to your plate but also complements its earthy flavors. Diced tomatoes and tomato paste are also great ingredients to have on hand for a pop of flavor!
By having these key ingredients on hand, you'll be well-equipped to create delicious and memorable venison dishes that are sure to be a hit!
DIFFERENT CUTS OF VENISON FOR VENISON CROCK POT RECIPIES
There are several different cuts of venison, each with its own characteristics and recommended cooking methods. Here are some of the most common cuts:
1. Tenderloin: This is the most tender and prized cut of venison. It is located along the backbone, running parallel to it. Tenderloin is often cooked quickly over high heat and is best served medium-rare to retain its tenderness. It's small, but mighty.
2. Backstrap: Also known as the loin, the backstrap is another tender cut of venison. It runs along the back, just above the rib cage. It can be cooked similarly to the tenderloin, by grilling, pan-searing, smoking or roasting.
3. Rib Rack: Just like with beef or pork, the rib rack of a deer provides bone-in rib chops OR you can make braised short ribs if the chop is removed.
4. Shank: The shank is the portion of the leg below the knee joint. It is a tougher cut but has great flavor due to the connective tissue and bone marrow it contains. Slow cooking methods like braising or stewing are recommended for shanks to break down the toughness and achieve tenderness. I also like smoking my venison shanks.
5. Shoulder Roast: The shoulder of a deer is a large and tough cut that benefits from slow cooking methods. It can be roasted, braised, or used to make stews, soups, or chili.
6. Neck Roast: The neck of a deer is a tougher cut that is often used for making roast or ground meat due to the presence of a higher amount of connective tissues and fat. Slow cooking methods like braising or stewing are common for neck roast. Neck roasts also make great Ragu.
7. Ground Venison: Ground venison is made by grinding various cuts of venison, including trimmings and less tender cuts. It is versatile and can be used in burgers, meatballs, tacos, chili, and many other dishes.
Remember, cooking times and techniques may vary depending on personal preferences and recipes. Always ensure that venison is properly cooked to your desired level of doneness and follow safe cooking practices.
If you are searching for the perfect gift for hunters or someone who wants to learn how to cook the perfect cut of venison? Check out my cookbook, Venison Every Day, and make the most out of your venison meat this season.
HOW TO STORE YOUR VENISON CROCK POT LEFTOVERS
If you happen to have leftovers of any of these delicious venison crock pot recipes here is how to store them. Head over to each individual recipe for specific instructions if you are wanting to freeze the leftovers.
Let the leftover venison cool completely before storing it.
2. Divide the leftover venison into meal-sized portions if necessary.
3. Place the portions of venison in airtight containers or resealable bags.
4. Label each container or bag with the date and contents.
5. Place the containers or bags in the refrigerator if you plan to use them within a few days, or in the freezer for longer storage.
6. If using the fridge, consume the leftover venison within 3-4 days.
7. If using the freezer, venison can be stored for up to 3 months.
8. When ready to use, thaw the venison in the refrigerator overnight before reheating or incorporating it into recipes.
HOW IS VENISON BEST SERVED? TRY ONE OF THESE AMAZING SLOW COOKER VENISON RECIPES AND SEE FOR YOURSELF!
It is such a gift to be able to share these venison crock pot recipes with all of you! I hope you'll find a favorite and the next time you ask yourself "How do I cook venison in the crock pot?"…you know where to go!
Want more recipe ideas, tips and tricks? Go grab a copy of my cookbook Venison Every Day! There are SO many recipes that use venison, like sausage gravy, asian chop salad, and pasta fagioli.