Easy and delicious, gluten-free crumb topping is piled on top of a juicy berry filling. Make it with fresh or frozen berries.
This gluten free berry crisp is one of my favorite desserts to make any time of the week AND any time of the year. It's fast, easy, and much healthier than a lot of desserts. The best part – you can make it with fresh or frozen berries so it truly is a year round treat. Check out the recipe in the printout to see how.
Last year, I went blackberry and peach picking with my mom and our dear family friend. We all met up at a lovely little farm one weekday morning and it was one of my favorite days of the entire year.
After we pulled up, we each took a basket for peaches and a bucket for blackberries and got to work. There's really nothing better than watching the tips of your fingers turn purple from blackberry juice and feeling soft, sun-warmed peach fuzz. It's truly heavenly.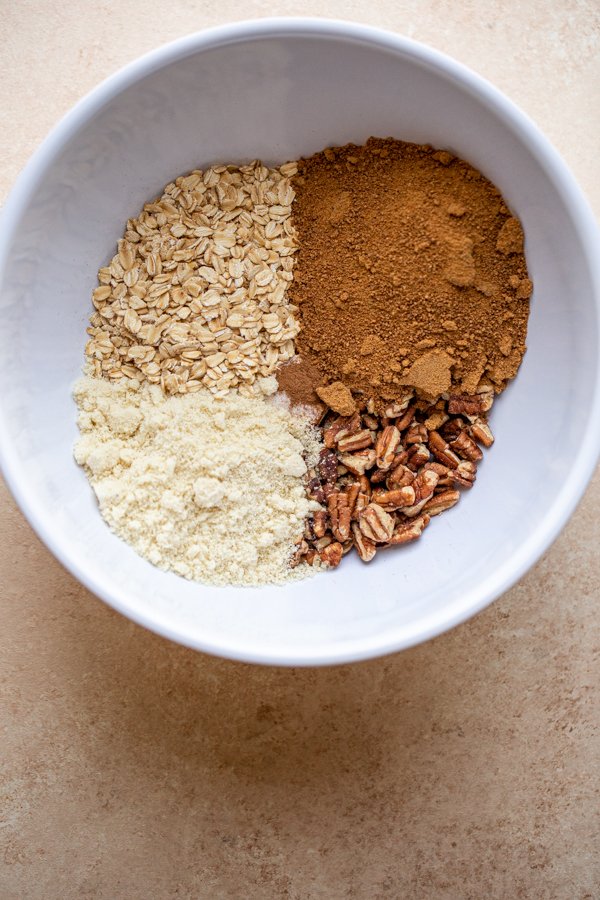 I took the fruit home and canned most of the peaches (this is the recipe that I used) and the blackberries got eaten (my husband LOVES them), frozen, made into black raspberry pie OR crisp like this one.
The thing is, when the weather cools and all of the fresh berries stat to become less available, I still really crave berry desserts.
So, I wanted to create a gluten free berry crisp recipe that worked with fresh OR frozen berries.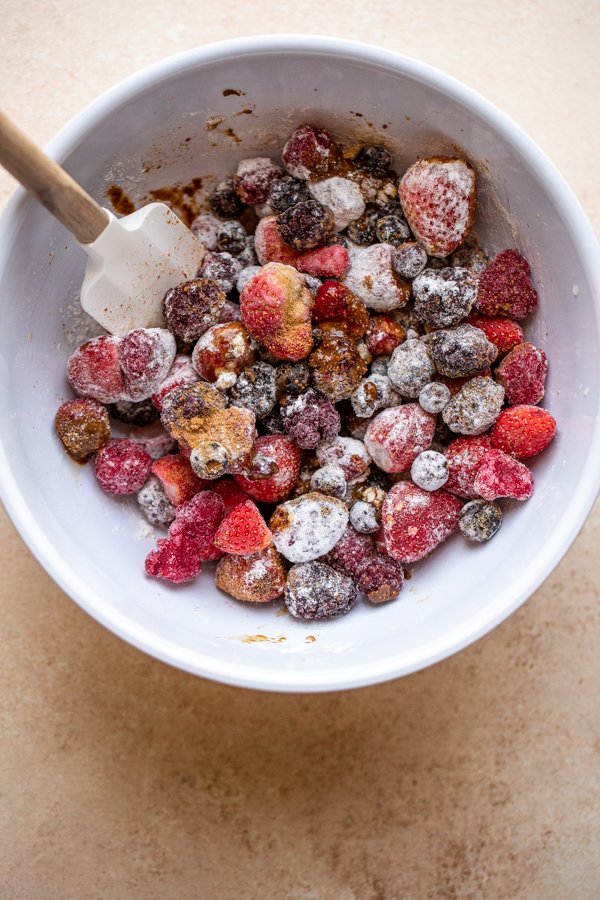 Fresh or frozen berries?
When I post berry recipes, people often ask if they can use frozen berries. If you're anything like me, you probably have a few bags of frozen fruit laying in the freezer at most times. So you might wonder:
How do you use frozen berries in gluten free berry crisp?
This is really simple. Of course, frozen berries aren't going to taste EXACTLY like a fresh picked berry. But, it's pretty darn close. The real problem is all of the extra liquid that comes off when the berries thaw during cooking.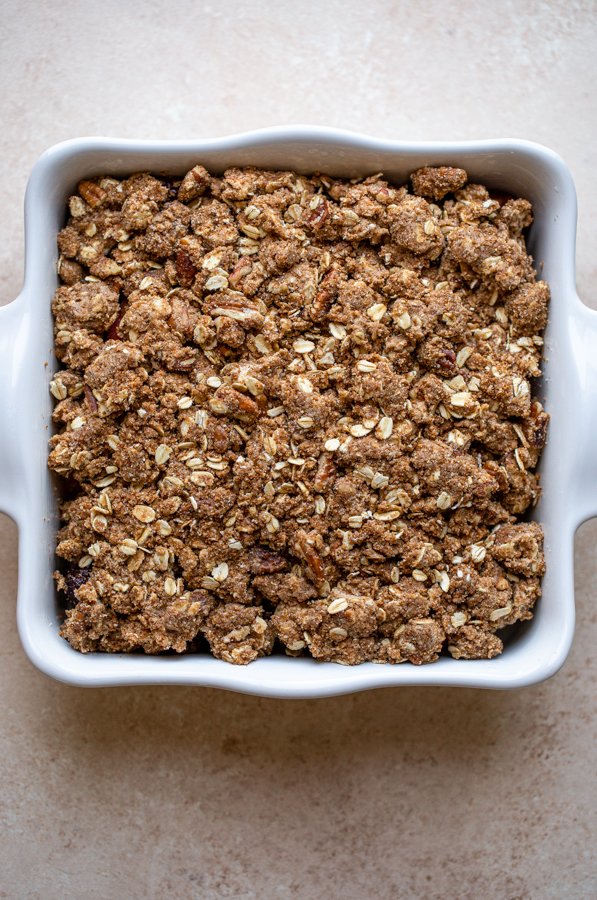 So my solution is adding additional starch to the mixture so it thickens upon cooling. Voila!
How do you use fresh berries in gluten free berry crisp?
Using fresh berries is my preferred method, and all I do is add a little less starch. See, easy as pie. Or crisp 🙂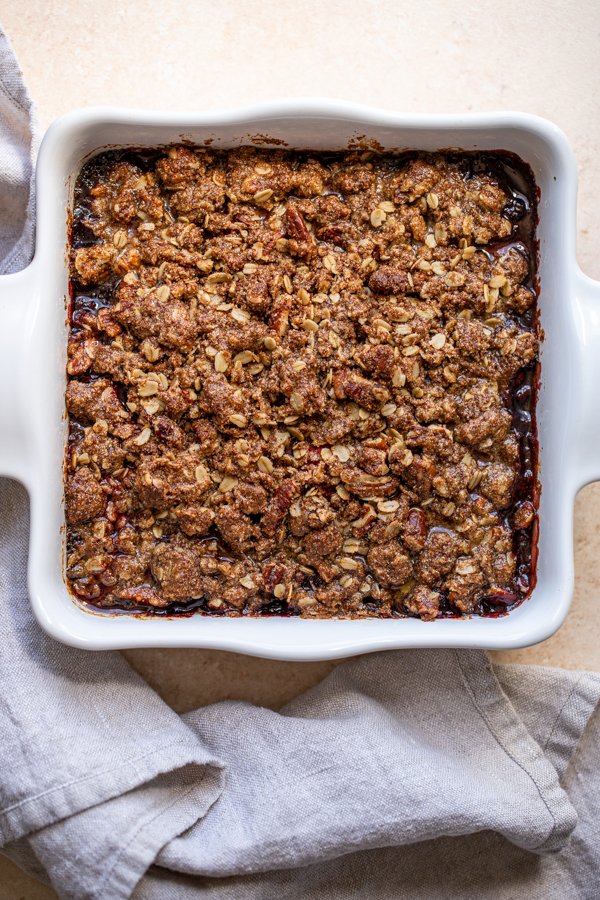 How do you make crisp gluten free?
This crisp topping is the blend of the following yummy ingredients:
Oats
Almond flour
Pecans
Coconut sugar
Melted butter (coconut oil or ghee also works)
Sea salt
The butter helps stick everythign together and gives you that delicious crumble crunch we all love so much!
Print
Gluten Free Berry Crisp | With Fresh or Frozen Berries
Easy and delicious, gluten-free crumb topping is piled on top of a juicy berry filling. Make it with fresh or frozen berries.
Scale
Ingredients
4

heaping cups fresh or frozen berries – any variety you like (strawberries, blueberries, blackberries, raspberries, etc) 

1

and 1/4 cups coconut sugar, divided

2 Tbsp

. OR 1/4 cup arrowroot powder (or tapioca or corn starch) – use 2 Tbsp. for fresh, 1/4 cup for frozen berries 

1

lemon, juiced 

3/4 cup

almond flour

3/4 cup

rolled oats

3/4 cup

chopped pecans 

3/4 cup

melted butter

1/2 tsp

. sea salt
Instructions
Preheat the oven to 375F and lightly grease an 8×8 inch baking dish. If you don't have an 8×8, try a deeper pie plate or round cake pan. 
Mix together the berries, 1/2 cup of the coconut sugar, arrowroot powder, and lemon juice. If you're using frozen berries, you don't need to thaw them, just use the frozen berry. Pour the berry filling into the baking dish. 
In another bowl, add the remaining 3/4 cup of coconut sugar, almond flour, rolled oats, chopped pecans, melted butter and sea salt. 
Using your fingers or a fork, combine the crumble ingredients until pea sized clumps form. Pour the topping on top of the berries and press down a bit. 
Slide the crisp into the oven and bake for 22-25 minutes, or until the topping is golden brown and the filling is bubbling up around the sides of the dish. 
Allow the crisp to cool on the counter before serving. Best served with a scoop of vanilla ice cream and/or whipped cream.