Rich and tender Easy Instant Pot Venison Stew comes together quickly for the perfect rustic, comforting dinner to use up your harvest in the freezer.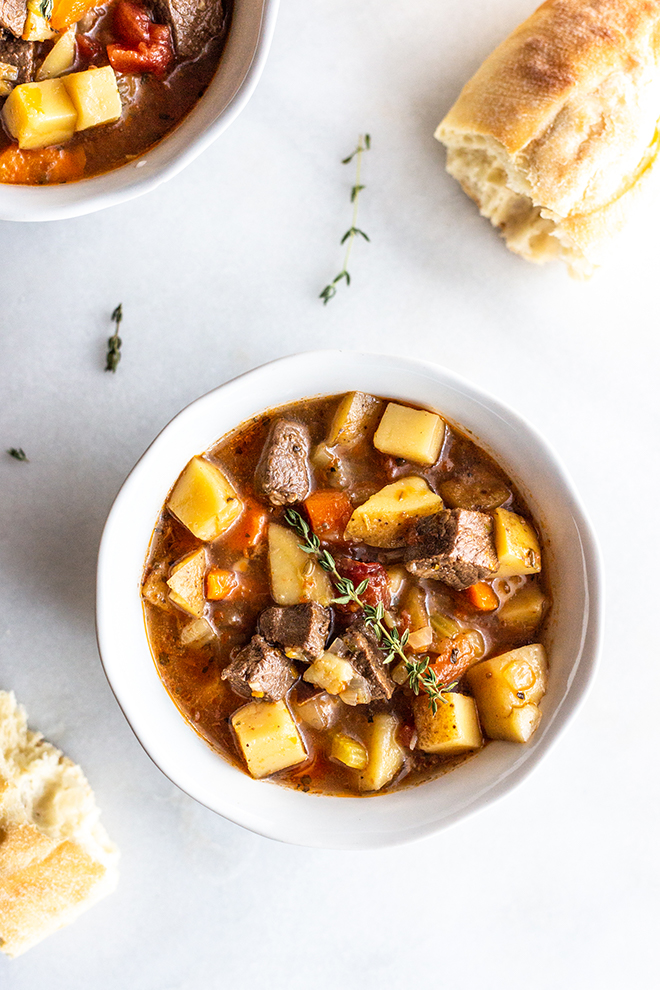 I honestly don't know how to fully describe how impressed I was with this stew the first time I made it. J was away for the weekend, I wanted to test something in the Instant Pot for the blog, I happened to have some beef broth laying around, and there was venison defrosted in the fridge.
I quickly diced up a mirepoix, or onions celery and carrots, which is the base of any good French soup or stew. I kept the rest of the ingredients simple, adding a French spice blend called herbs de Provence. It's lovely and Wal Mart actually has a great organic variety for under $3. So sorry, no substitutions there. Get you some herbs de Provence, friends.
I sauteed in the IP, added my liquid ingredients and went along on my merry way. You see, when I made this soup the first time, we were packing to move into our first home, so time was scarce.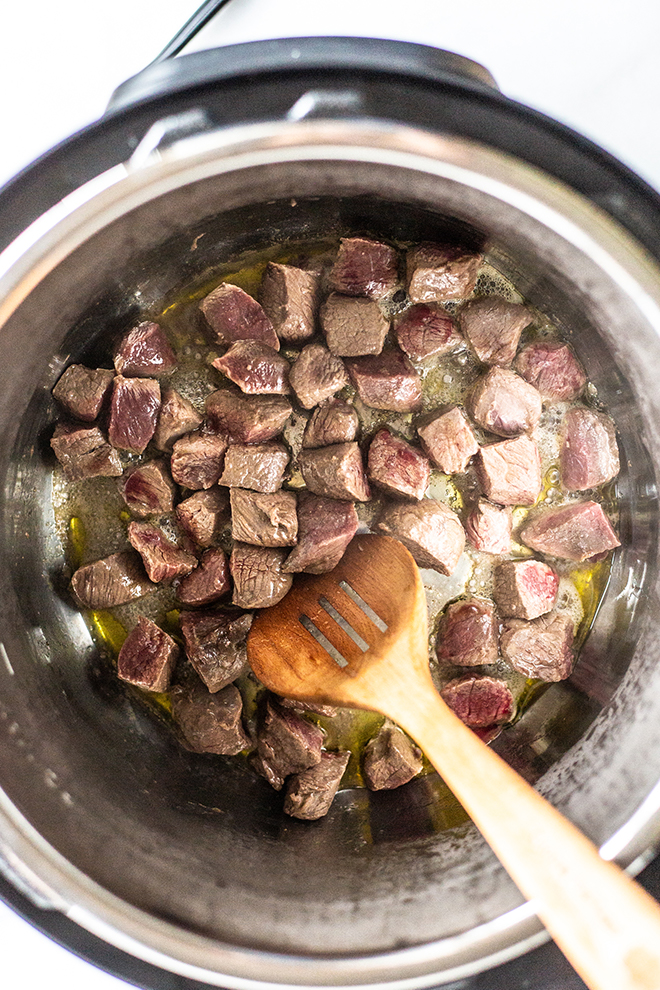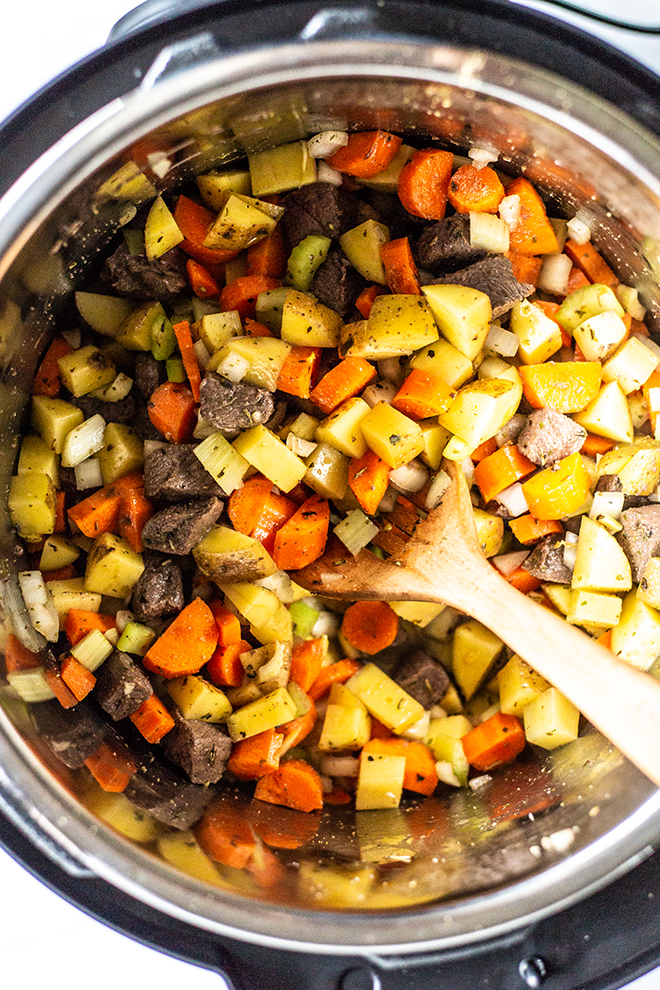 I let the cycle finish, waited 10 minutes, did a manual release and casually scooped myself a bowl. I sat down on the couch to take a packing break and BAM.
The most tender piece of venison I've ever had in maaahhhh life, friends. I KID YOU NOT. This stew is honestly beautiful. It's rustic, simple and even the most staunch venison opposer would probably fall in love with it. Instant Pot:1 Allie: 1 (I call this a win win situation)
Print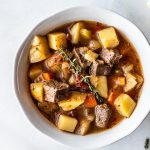 Easy Instant Pot Venison Stew (slow cooker friendly)
---
Author:

Prep Time:

15 minutes

Cook Time:

35 minutes + heating and release time

Total Time:

1 hour 10 minutes

Yield:

6
Description
Rich and tender Easy Instant Pot Venison Stew comes together quickly for the perfect rustic, comforting dinner to use up your harvest in the freezer.
---
Ingredients
1 Tbsp. olive oil
1 lb. venison, diced with all sinew removed – I used leg meat*
2 tsp. herbs de Provence
1 tsp. salt
3/4 tsp. black pepper
4 cups diced potatoes, I left the skin on
2 cups diced carrots
1 cup diced celery
1 large onion, diced
2 garlic cloves, minced
1 15 0z. can diced tomatoes
4 cups unsalted beef broth
3-4 dashes Worcestershire sauce
---
Instructions
Dice the potatoes, carrots, celery and onion. Mince the garlic. Set aside in a bowl.
Dice the venison into bite-sized chunks, being sure to remove any of the silvery sinew tissue. Leaving this on makes the meat tough.
Add the olive oil to the base of the Instant Pot and add the cubed venison. Add the spices and seasoning.
Turn the Instant Pot to "Saute" for 10 minutes.
Allow the venison to saute for 5 minutes and add the bowl of vegetables. Saute until the cycle ends with the lid off.
Add the tomatoes, broth andWorcestershire sauce. Stir well and secure the lid.
Select "Manual" or "Pressure Cook" and adjust the time to 30 minutes. Allow the Instant Pot to do its thang. Go pour some wine, do your nails, whatever.
When the cycle finishes, allow it to naturally release for 10 minutes before turning the knob to venting according to manufacturer's instructions.
Allow the Instant Pot to vent fully, remove the lid and serve!
Notes
beef would work well, too! You can use any cut of venison, backstrap would be lovely. Leg meat is tough, so this recipe helps it to be tender and delish!
If you want to make this in the slow cooker, saute the venison in a pan and add it to the slow cooker with all of the other ingredients. Let it cook for 4-5 hours on high or 8 hours on low.